Eye Health
Eye Shape & Vision | Utilization of Eye Shape Chart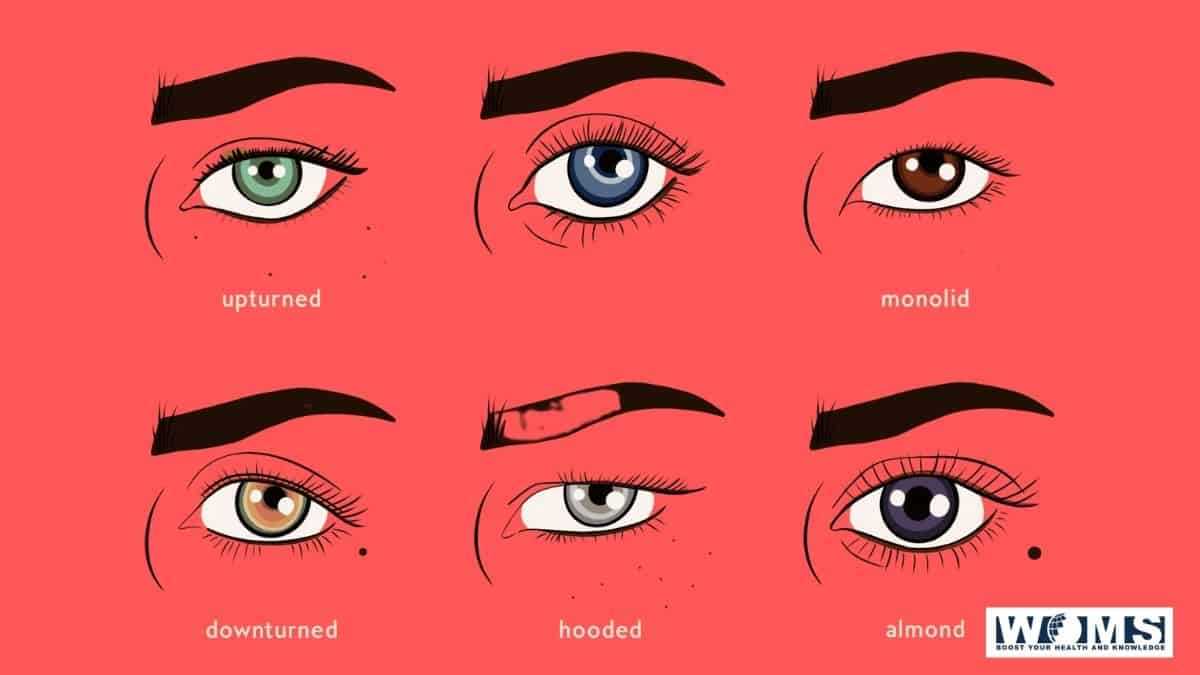 The human eye is an important and complex organ. You can visualize different objects because of your eyes. They perceive the light which is falling on them, color, and depth of objects. They are cameras fitted by nature inside your body. They help us seeing different things as the external light enters these cameras. Let's learn more about the eye shape chart.
Thus, understanding their structure and function is quite interesting. The human eye and vision are associated with other senses as well. Your eyes are capable of seeing different kinds of colors. Isn't it amazing to know that these colors are about 10 million!
The anatomy of the human eye is complex. The process of vision is closely related to the eye shape. Vision is considerably impacted by an eye shape. Humans are different from one another in terms of eye shapes. Much work has been done on the possible role of eye shape in vision (Verkicharla et al., 2012).
Yes, you may have hooded eyes, upturned, or downturned eyes. Some of your friends or cousins might have completely different shapes. Aren't you sure about the type of eye shape you have? You can use an eye shape chart for this determination.
Eye Shape and Vision
Eye shape has a profound connection with vision. It can be a determining factor in different vision-related issues. For instance, if the lid over the eyes drops, then vision is negatively impacted. This condition is known as ptosis.
In ptosis, the border of the upper eyelid drops considerably, unlike normal circumstances. This type of eye shape illness can be severe. In that scenario, the normal process of vision is interfered with by ptosis because the pupil is covered in a complete or partial manner.
Variable cases have been reported regarding ptosis in one or both eyes. In some individuals, it can appear at the time of birth. While in others, it can appear in later ager. In that case, it can be resulting from other ailments or nerves or muscles, e.g., myasthenia gravis.
In terms of eye shape, the impacted eye may appear smaller than its actual size. There is an automatic decrease between the eyebrow and upper eyelid's crease.
Thus, one abnormality of eye shape can lead to complete or partial damaging of vision.
Snellen Chart and Visual Acuity
Mostly the eye shape chart is used by beauticians for correct makeup determination. However, in the medical sense, another eye chart is also used. People associated with eye care and management often do treatment with the help of the Snellen chart.
You might visit your ophthalmologist and be instructed to read a chart. That is the Snellen chart, and it is used for determining your visual acuity. So that you can be treated if some issue is detected. The Snellen chart is also referred to as optotype and is nearly used by all people belonging to eye care—for instance, ophthalmologists, optometrists, physicians, screen persons, etc.
Generally, the patient is made to read the Snellen chart from a standardized distance. The patient is instructed to recognize items drawn on the Snellen chart. In the upper portion, there are considerably larger items that become smaller as they go down.
However, it must be noted that the Snellen chart or other similar charts would enable the doctors to determine your visual acuity. But, the information is not sufficient enough to determine the types of eye diseases (Celia, 2021).
Eye Examination is Important
When you go to an eye doctor, he measures your visual acuity with the help of a Snellen chart. Some doctors might use other charts, e.g., logMAR chart, Golovin–Sivtsev table, the Rosenbaum chart, Lea test, Landolt C, E chart, and the Jaeger chart. Eye exam conducted with the help of any chart will provide a clue about your visual wellness.
It is suggested by the American Academy of Ophthalmology to conduct your eye examination when you reach 40 years. At this age, the eyesight might fluctuate due to some diseases. In that case, eye charts will be useful to disclose diseases, e.g., glaucoma, etc. it also important to know about bad eyesight.
Diversity in Eye Shapes
It is quite interesting to know that the entire human population varies in terms of eye shape and color.
Are you confused about how to determine the eye shapes? Few generalized questions will help you find the answer. If the crease of any individual is not visible, then he has monolid eyes.
In case of the visible crease, the following tips will help you determine the correct eye shape. The eyes of an individual will be round if the colored part of his eyes is having a little white showing with the visible crease.
In a more specific manner, some individuals might have similar eye features, but they will never be the same. The following list is showing different types of eye shapes determined from the eye chart.
Types of Eye Shapes
Deep-set eyes: This type of eye shape is known as prominent brow bone. They are comparatively deep in the skull and are also larger.
Monolid eyes: Monolid eyes are comparatively flat on the surface. They have a very smaller or no crease at all.
Hooded eyes: According to the eye shape chart, the lid of the eye is smaller in the hooded eye shape. Also, individuals having hooded eyes shape are known to have some extra skin. This extra skin is in the form of a layer and is placed over the crease of the eye. This is in a drooping position.
Protruding eyes: Individuals with protruding eyes have their eyelids in a more prominent position. Their eyelids are in an outward position in the area of the eye socket.
Upturned eyes: Upturned eyes are also known as almond shape. Such eye shape is determined by a natural lift in the outer corner.
Downturned eyes: The downturned eyes are often seen as having a slight drop in the outer corners.
Close-set eyes: The space between eyes is less and can be compared to lesser than one eyeball width.
Wide-set eyes: The space between eyes is more and can be compared to greater than one eyeball width.
Eye shape chart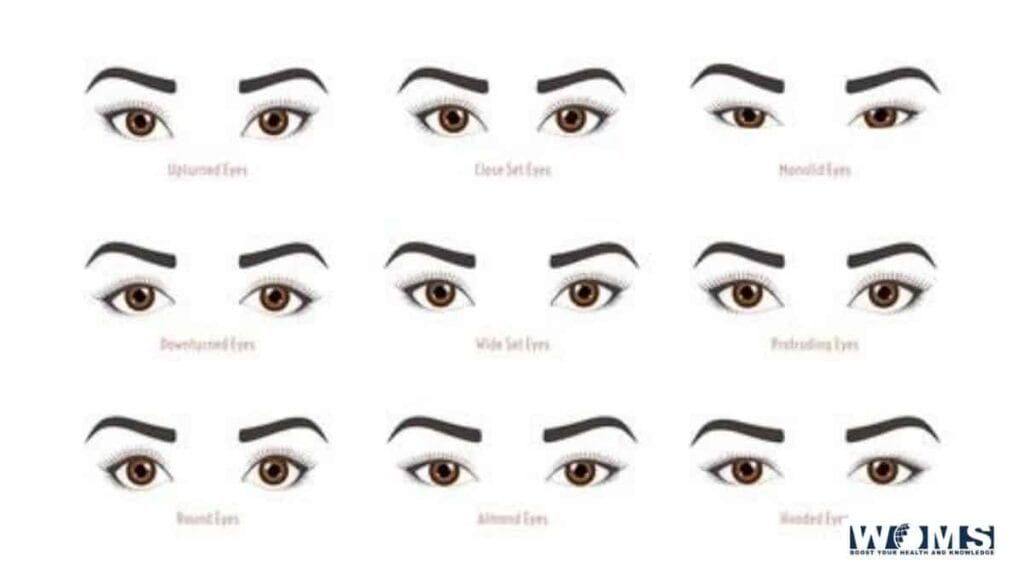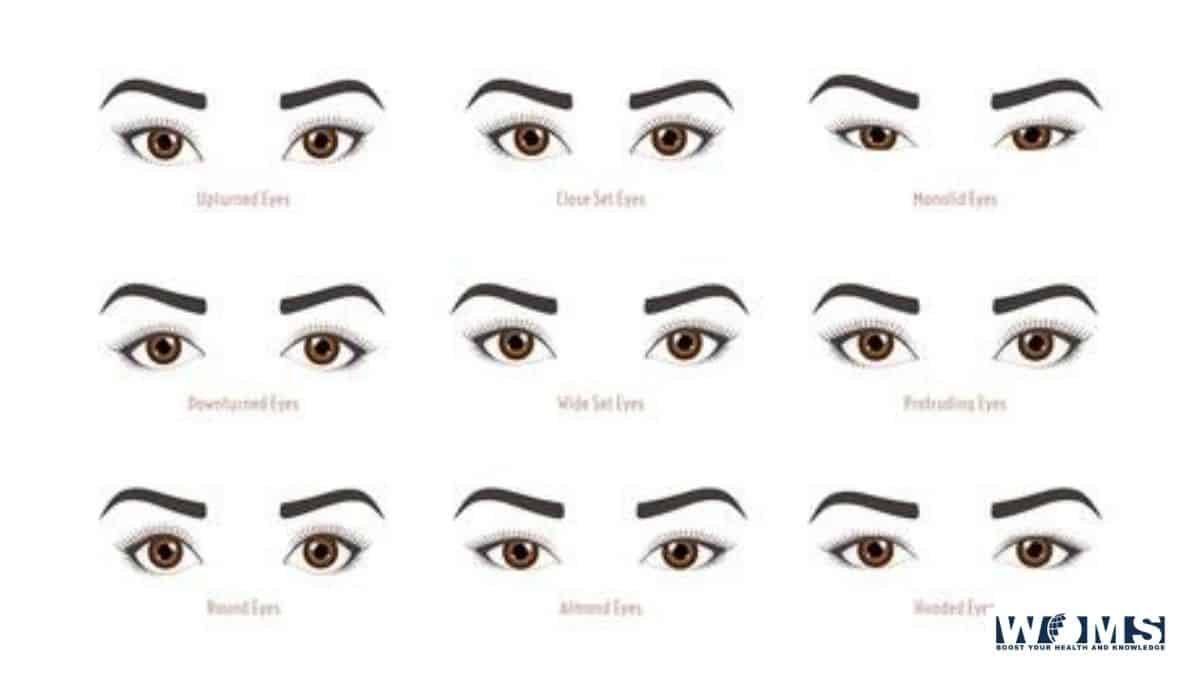 It is important to understand the relevance of eye shape in vision. This blog will help you understand this relevance in a brief and comprehensive manner.