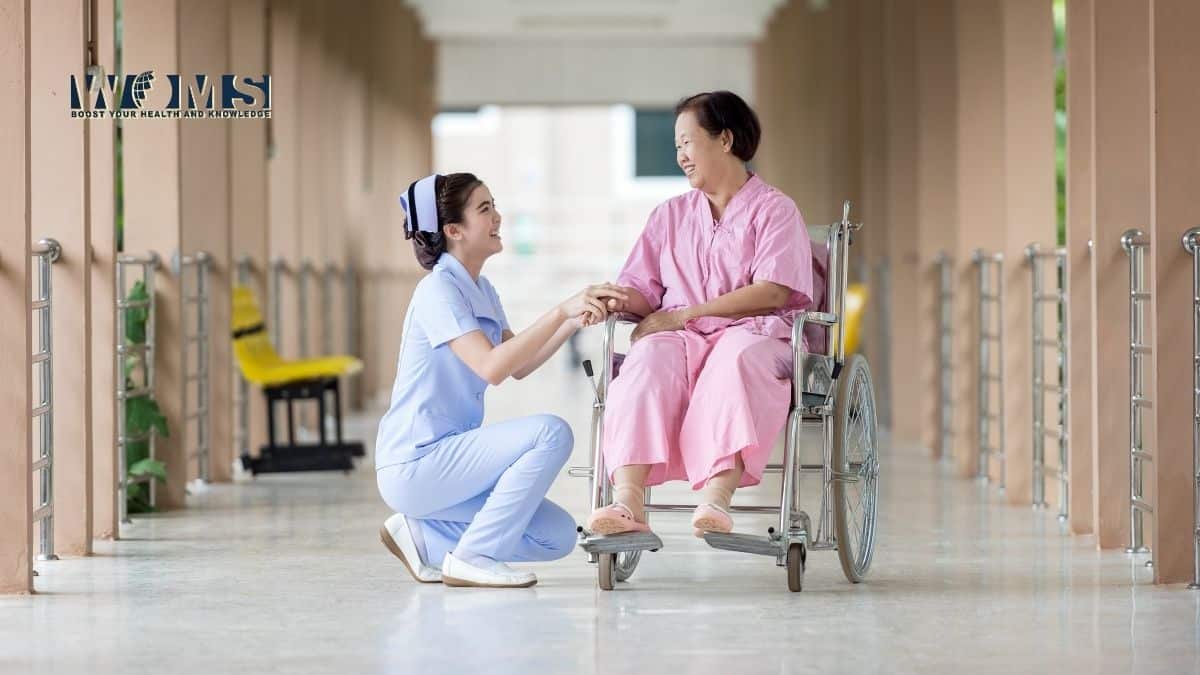 Nursing schools and program options are plentiful, but so are career paths! You've been able to narrow down and choose your path in life, and choosing your school and program will be no different. Whether you're just starting out or you're looking to advance your nursing career, you'll want to dig deep when you ask yourself questions like What makes a good school? Which program is best suited to my lifestyle? Which program is best suited to my goals? It's tempting when you're excited about your pursuits to jump into the first most feasible program you find — but not wise. Choosing the best nursing school and the program is crucial to ensure you come out on track to your best path, doing your best work, and feeling your best every day when you put on your new cute scrubs. It's a process, but one that's sure to help you find clarity, as well as find the best nursing school and program out there for you.
Qualities of a Good Nursing School
Accreditation: The number one thing that you should always check for in a school you're considering is their accreditation, which ensures that they have professional and legal standards that are up to par. This is important, as new nursing programs emerge rapidly to meet the growing demand for nurses, but also as even the best schools in long-time good standing can lose their accreditation over the years.
NCLEX Pass Rate: Passing this exam grants a student their nursing license and allows them to embark on their nursing career. These scores can offer insight into things like the quality of the curriculum, the proficiency and level of support from faculty, the amount of practical practice and application, and more than previous students have received.
Ranking: School rankings can be helpful when it comes to mass comparisons and should be considered when choosing a school, but they shouldn't be a factor that you base your entire decision on. If you're struggling to decide between a couple of different schools and one has a dramatically better ranking, or if your school of choice has an overwhelmingly bad ranking, though, you may be thankful that you looked into these!
Aligning Your Program with Your Goals
Different types of people will become different types of nurses, and there are different types of programs to reflect this. It's important to take the time to consider your aspirations and what exactly it is that you need to succeed.
Do You Want to Specialize? Depending on your aspirations, you may want to consider a program that offers additional courses focused on the specialty you plan to pursue. Whether to test the waters, as a stepping stone to further your education or simply because you're enthusiastic about the specialty and want to explore it, this is never a bad idea.
Do You Know Where You Want to Work After? With some schools offering the exclusivity of job postings only for their graduates, some schools boasting partnerships and relationships with local hospitals and clinics and some schools offering little-to-no opportunities to their students after their program is complete, you may want to seriously start thinking about graduation and heading off to work before even applying!
How Long Do You Plan on Being in School? You may be eager to jump into your new lifestyle and career as soon as possible, or you may want the most thorough training available before you begin to even consider it. Either way, taking the time to consider how you want your career to unfold can direct you toward the right nursing program.
What Are You Looking For in a Teacher? When you're comparing schools and programs, look for faculty that speak to you. Speak to you literally while they teach you, yes, but if your potential teacher has been a highly regarded prenatal nurse in your community for 20 years, and these are your exact goals — that probably speaks to you in a whole different way! You'll be spending a lot of time with your teacher and throughout the program your teacher will also likely become a mentor, a motivator and a source of inspiration, so choose them as wisely as you can!
Aligning Your Program with Your Life
Your schooling will be a big part of your life, if not your entire life, while you attend it. Not only is it important to take the time to decide which program is right for you and your aspirations, but for your lifestyle and capabilities as well.
How Do You Prefer (or Need) to Learn? Whether you prefer a big lecture hall packed with students or an online program with self-pacing and plenty of personal space, education has become accessible to all places and all learning styles these days — and nursing programs are no exception! Not only can these options help you take advantage of your preferred learning style, but they can allow aspiring nurses the ability to access education that works with their lifestyle and location no matter who or where they are.
Where Would You Like to Live Out Your Dream? Where your school is located can play a huge part in (and even make or break) the experience of attending it, so you'll want to make sure that it's somewhere you'll enjoy being, or where you can find some sort of charm. If you've found the perfect school in a less than perfect location, remember that nursing school doesn't last forever and weigh this decision carefully!
What Commitments Do You Already Have? While boasting the ability to focus solely on school and your nursing program is ideal, it's not exactly a luxury that most students can afford. With personal commitments, volunteer and extracurricular activities, friends and family to see and more on your daily planner, it's crucial to consider every aspect of your schedule before cramming your schooling into the mix if you want to make it all work together.
How Much Can You Invest in Your Schooling? While one nursing school may have lower tuition, it may be a longer program or located farther away, costing you more money in the long run. While one program may be more costly, it may not guarantee a higher quality of education, leaving you paying to upgrade in the end anyway. You'll want to consider the level of quality you're getting, what sort of assistance is available to help you, what you can afford realistically on your own, what you'll be losing because of the time spent away from work and what sort of debt you may be willing to take on.
Making the Most of Nursing School
When it comes to choosing the right nursing school and program for you, clarity is the key. Research and even visit the schools that you're considering, and check everything out from the campus to the classrooms, talk to everyone from the students to the staff, and, most important of all, know what you want out of a nursing school and remember it while you're there.
Once you've chosen and been accepted to a program, consider getting ready for your new lifestyle by exploring scrub sizes and styles, backpacks and duffle bags and even stationery, to find what works best for you before testing it at school and to keep your clarity and boost your motivation!