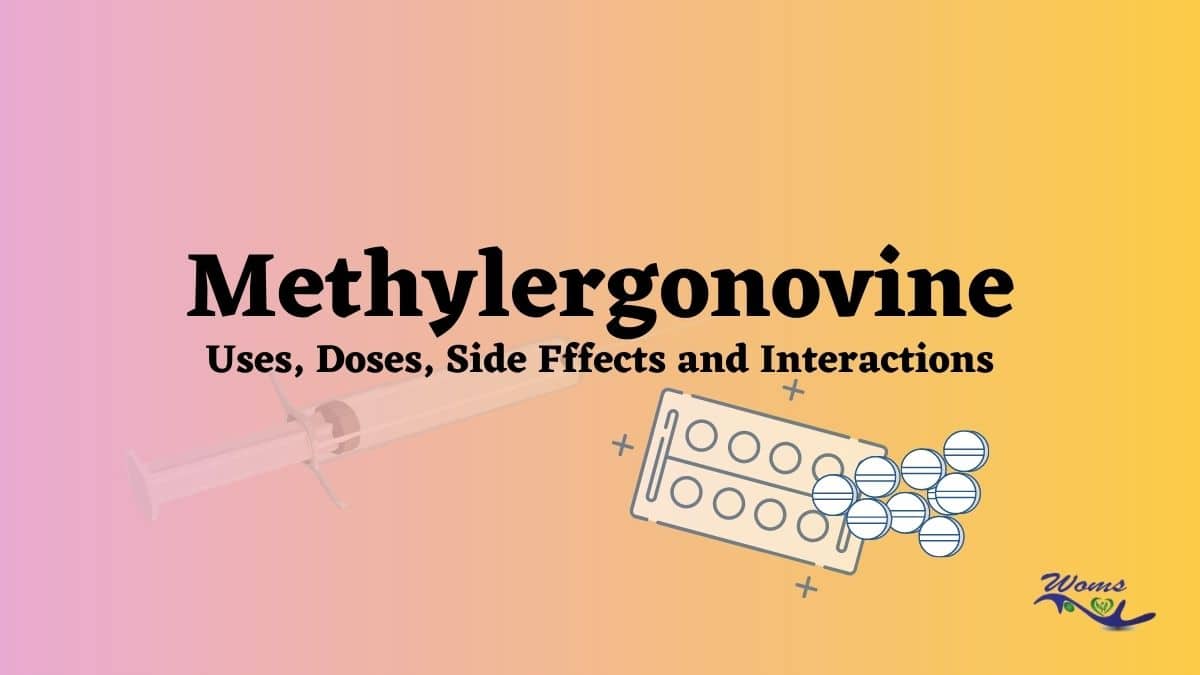 What is Methylergonovine?
Methylergonovine is a type of alkaloid ( ergot alkaloid ) that strengthens the muscles of the uterus and also improves the timing of it's contraction.
This medication is administered just after the delivery, that is the postpartum period. It is highly effective in controlling various uterine problems after delivery. You can read about dysfunctional uterine bleeding here.
This medication can also be sometimes used for purposes other than those mentioned above. Consult your doctor for more information.
How to take Methylergonovine?
This medication comes as oral tablets. It is supposed to be taken about 3 or 4 times in a day. However, we highly recommend you to follow the directions of your doctor.
You should make sure not to take more or less dose than mentioned in your prescription.
What are the side effects of Methylergonovine?
Remember that whenever your doctor prescribes you a medicine, he considers that the positive outcomes of the medicine is more to your body than it's side effects.
Generally the side effects of methylergonovine includes diarrhoea, vomiting, upset stomach, bad taste and headache. You should remember to consult your doctor as soon as possible if any of the above symptoms worsen or last longer.
What precautions should you take?
Before using methylergonovine as a medication, you should tell your doctor about the possible allergies you have. In the case that you are allergic to ergot alkaloids, you should let your pharmacist know about it. Additionally, the inactive ingredients present in this medication may also result in allergic reactions.
The medical history of the patient should be presented to the doctor before taking this medication. You should in details share your history to the doctor in following cases:
Liver diseases
Kidney diseases
High blood pressure
Chest pain
Diseases of the blood vessels
High cholesterol level
Pregnancy compilations
We highly recommend you to share your medical history with your pharmacist.
You may have either heard or experienced how alcohol can make you dizzy. The same effect is brought to your body by this medication. This is the reason why you should not drive after taking methylergonovine.
Moreover, you should avoid doing any physical work that needs alertness. While taking this medication, your doctor shall ask you to limit your alcohol consumption.
Do you want to stop drinking alcohol? We have prepared the best solutions to stop drinking alcohol here at treating alcoholism.
We strongly recommend you to not use this medication during the course of pregnancy. This medication can cause harm to the unborn baby. In the case that you are pregnant, you should let your doctor know about this.
Additionally, your doctor shall also tell you not to use methylergonovine while breast feeding. The reason is the passing of this drug into breast milk. Although it passes into breast milk in small amounts, it can cause serious health effects on a nursing baby.
Interactions with other medications
Whenever you use a new medication, your doctor is completely aware of it's interactions with the other medications. You should keep in mind that these interactions will determine the working or risking of your medication.
Your doctor or pharmacist may either add or remove the medication. He may also sometimes change the dosage of medication as per it's interactions with other medications that you take. You should also keep in mind not to add, remove or change the dosage of any medication without your doctor's approval.
We recommend you to make a list of all the medications you take before taking methylergonovine. You should then share the list with your doctor or pharmacist. Your doctor shall then analyse the possible interactions and direct you accordingly.
Overdose of Methylergonovine
In the case that you have overdosed this medication, you should get assistance asap. If you develop some serious symptoms including difficulties in breathing, you should call 911 right away. You can also consult a poison center nearby in the case of serious symptoms. To know about anti-fungal creams like Luzu, you can consult us.
What if I miss a dose?
You should be very careful to take the medication every single time your doctor prescribes you. However, there are times when one may forget taking it on time. What then?
If you have forgotten to take the medicine, you can take it as soon as you remember. But you should keep in mind that you should skip the missed dose if you remember taking it at the time of next dose. We strongly recommend you not to take double doses to catch up.
Storage of the medication
You should store methylergonovine at a place away from light and excess moisture. You should maintain room temperature if you intend to store this medication.
Don't forget to keep children and pets away from this medication. Unless you are instructed, don't pour this medication into drain. To get more information about this medication, consult your pharmacist or doctor.
Final note to the reader
While taking this medication, you should remember to keep all appointments with your pharmacist or doctor. You should never be involved in sharing any medication without approval of your doctor.
In the case that you still develop the above symptoms after taking methylergonovine, call your doctor right away.