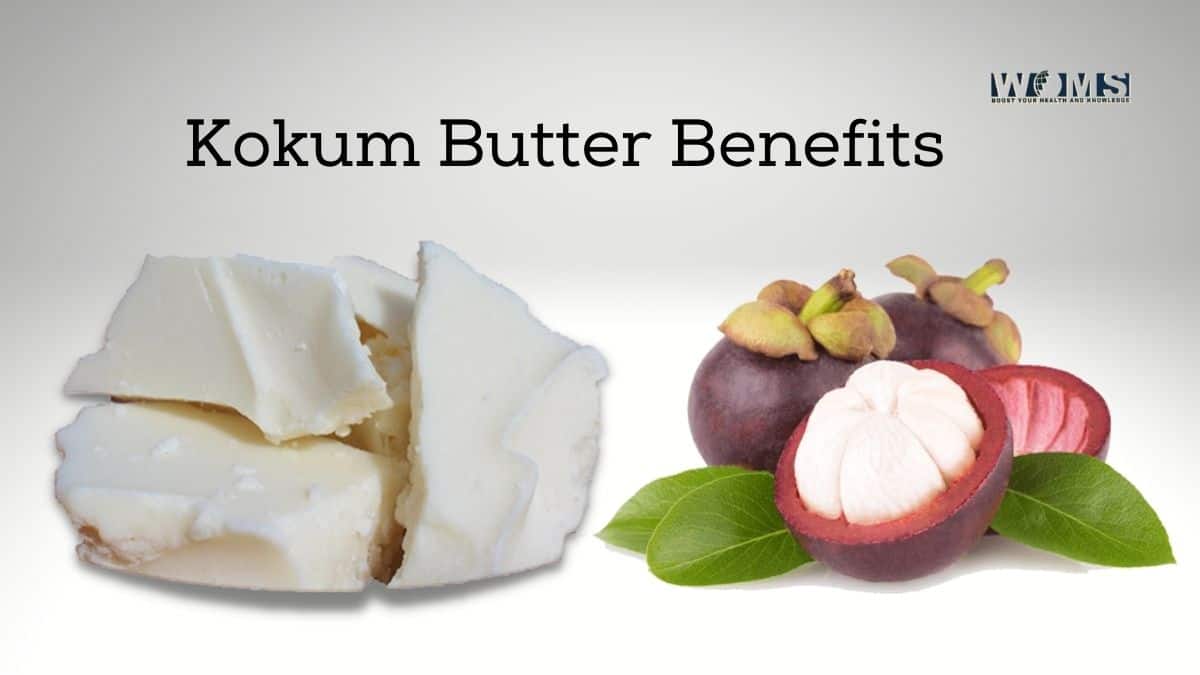 Ayurvedic and organic products have gained much popularity over time. The market is flourishing with natural and chemical-free beauty products. These skin-related products rely on natural raw materials for their production. Kokum butter benefits are a must to know.
For instance, it is seen that plant-based oils and butter are blended in as essential ingredients in several personal care products such as oils, creams, and lotions. One such naturally obtained butter, which is less known by most people, is Kokum butter.
Kokum butter has underlying benefits that surpass coconut oil or shea butter. Further in the article, you will get to acknowledge what advantages kokum butter provides to your skin and hair and the worth that it adds to your life. Let's go through the benefits of kokum butter.
Kokum Butter Benefits
For those who do not know what kokum butter is, it is an oil that is extracted from a highly productive kokum tree. Primarily used in manufacturing cosmetics, kokum butter can also be used in making chocolates because it is edible.
Kokum butter remains solid at average room temperature, thereby being named butter and not oil. It has multiple helpful benefits, which are mentioned below.
Restores and Retains Moisture
The most beneficial aspect of kokum butter is its much-needed moisture to dry skin, dry hair, and dry scalp. It is a promising emollient, and anyone can conveniently use it to remove the dryness from almost all the areas, such as lips, hair, or feet.
One good thing about kokum butter is that it is lightweight, so it does not leave you with a greasy effect after being applied to your skin or scalp. For those having sensitive skin, kokum butter is the best solution to keep their skin moisturized. Apply it in small portions and feel the change in your skin or scalp
Treats Acne
Unwanted acne and acne scars have become a critical problem for people, especially women and teenagers. Using chemicals on the skin can be harmful and might not give long-lasting results. In such a case, you can rely on kokum butter. Because kokum butter has the ability not to clog your pores, applying it consistently might bring back the lost moisture of your dry skin.
Moisturizing the skin is extremely important in case of acne or acne burst outs, so kokum butter serves the purpose. If you suffer from acne due to dry skin, kokum butter can be efficient, but there's no surety of getting the best results.
Relaxes Inflamed Skin
In case you have a cut or burn on any part of your skin that is taking longer to heal than you expected, then you must go for kokum butter once. Kokum butter has the antimicrobial and antioxidant capacity, and therefore, it is proven to soothe inflamed skin. 
Applying kokum butter twice daily can reduce the symptoms and effects quite effectively. Although kokum butter is entirely safe and secure to be used by anybody having any skin type, it is still suggested that before bringing it into use, consult a doctor or medical specialist.
Anti-aging Properties
Kokum butter has reduced aging signs in middle-aged women and people. The wrinkles and dryness can be cured up to a satisfactory extent using kokum butter. Not only this but the lost elasticity and dryness on your skin can also be reduced by bringing kokum butter into use.
Although no research proves that kokum butter is effective in bringing down aging symptoms, it is seen that the butter has properties that diminish the wrinkles and dryness of your skin.
Frequently Asked Questions
How long does Kokum Butter last?
Normally, a Kokum Butter lasts up to two years. It has a shelf life of 12 to 18 months. Kokum Butter melts at a temperature between 90° F to 104° F. It is indigenous to the Western Ghats and obtained from the kernels of Garcinia Indica.
Can you heat kokum butter?
At average room temperature, kokum butter exists in solid form. It is advised that you do not heat the kokum butter like coconut oil or shea butter. Apply it directly by mixing it with your routine creams or lotions. If it is essential, for instance, if you are making a cream out of kokum butter, you can heat it.
Does kokum butter clog pores?
Kokum butter is non-comedogenic; that is, it does not clog pores. Instead, it acts as a moisturizing agent and removes dryness and wrinkles from your face. It is also effective in providing moisture to other body parts such as lips or scalp.
Does Kokum butter have any disadvantages?
Not in terms of use, but some disadvantages are associated with kokum butter. These include-
1. In comparison to other plant-based products, kokum butter is quite expensive. It is not a budget-friendly choice at all.
2. Being solid at room temperature poses problems while mixing the kokum butter with other creams or lotions.
3. One significant disadvantage of Kokum butter is that it is not easily accessible. Like coconut oil or shea butter, it is not instantly within reach of everyone.
Does Kokum butter absorb quickly?
Yes, kokum butter has the properties of absorbing quickly. Luckily, the butter does not give you a greasy feel after applying it to your face or other body parts.
Conclusion
Having known the advantages of kokum butter, you can always bring it into use for multiple purposes. Primarily, the butter will provide a good amount of moisture to all skin types. A hydrated skin grows and glows well. Even if you have a dry scalp, you can still trust the kokum butter to get rid of the problem.
If pollution or hormonal imbalances have resulted in open pores, acne, or acne scars on your skin, it is also advised to apply kokum butter to your skin regularly. Kokum butter is effective in reducing wrinkles and aging effects on your skin.
Adding versatility to the product, kokum butter can treat your cut marks, scars, and wounds well. It is expected that you will start getting results within 15 days if you use kokum butter twice a day on your skin because it has emollient properties.
All in all, kokum butter is safe for most people, but it is always suggested that you bring it into use only after a proper medical recommendation by your skin specialist.