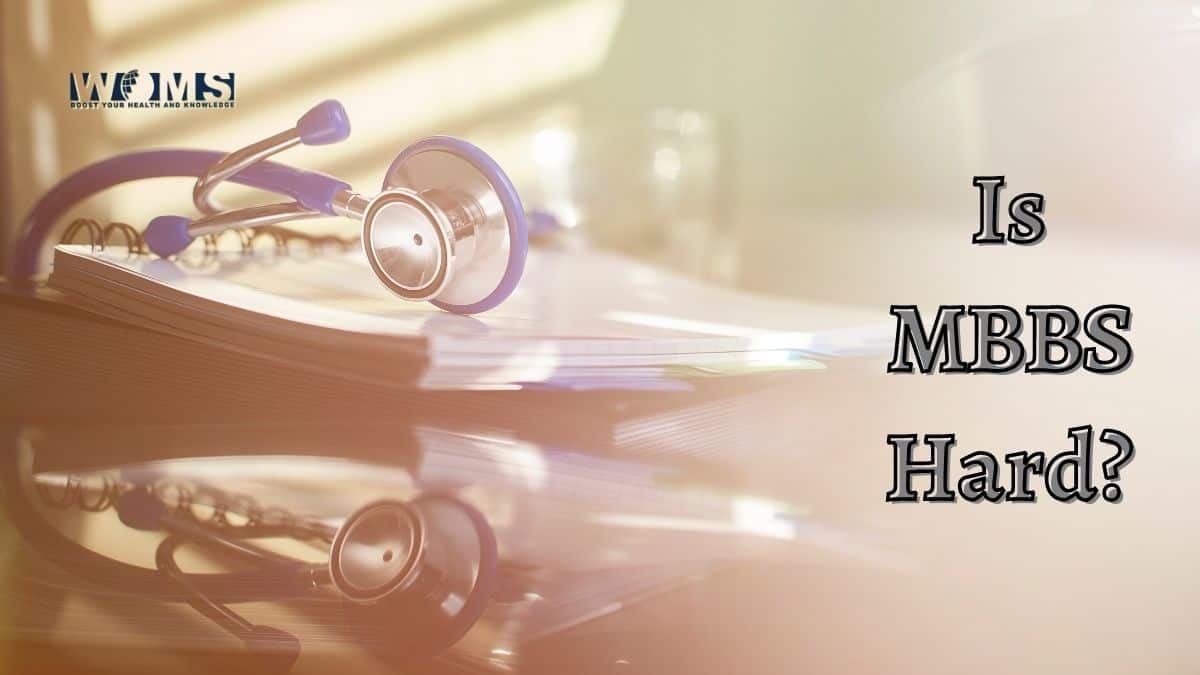 Is MBBS hard? This is the most common question among intermediate-level students. As they pursue their study career, they want the best advice to brighten their future. To get their answer, they ask this question to many seniors to make better decisions about their future. In addition, they also want detailed information about the professional degrees to know whether it matches their interest.
This article provides complete detail about the question is MBBS hard or not. In addition, it will also help you learn how to study in MBBS. Moreover, you will also be able to know about the scope of MBBS for a better decision. You only need to pay attention to get your desired answer.
Is MBBS hard?
MBBS is not such a hard degree. It requires consistency in your hard work. You have to pass the entry test exams to secure your position in any medical college. Your merit will decide whether you are capable of getting admission to medical college or not. Once you get admission to any medical college, you have to put in your maximum effort to excel among the other students.
For the students of first year MBBS, it is quite tough to cope with the lengthy and tough syllabus of MBBS. Considering this, they think that MBBS is hard to gain excellence. They think the answer to Is MBBS hard is Yes. But, it is not true. Besides having a lengthy syllabus, if you study continuously, there is no one to stop you from getting the best grades.
To pass the professional exams, you need to achieve 50% in both the theory and practical exams. If you fail to get 50% marks, you will be considered a failure in your paper. Every year, there is a percentage of about 15% that are unable to pass the professional exams. This percentage varies from college to college. It's recommended to do thorough research on an educational institution's requirements or even get plenty of tips for picking colleges in order to avoid overestimating your own skills and knowledge.
What are the reasons that people think MBBS is hard?
It is a common perception among the seniors as well as juniors that the answer to is mbbs hard is yes. There are several reasons for this false perception. Let us have a look at these reasons to break the chain of misconception.
The course of MBBS
After clearing the entrance test, students usually think that they have done all the struggle to secure their future. But this is quite the wrong concept. But the real struggle starts from here. After knowing about the course, students think that it is quite tough to cram the course. All you need to do is a thorough reading and clear your concepts. There is no need to cram all the MBBS books. It will just make you frustrated about not covering the syllabus.
Read your books with full attention and grab the main concept. You will get good marks if you pour out the best concept in the best form.
Different syllabus
After passing out the intermediate exams, students think that their study patterns will remain the same. But the syllabus for MBBS is totally different from the pre-medical syllabus. This thing makes the students think that answer to is MBBS hard is yes.
You can easily cope with this tension by studying and learning. If you are unable to remember, you can take help through various youtube channels or any kind of study material or various medical cases. This is the only degree that requires learning the knowledge not cramming the words.
Lack of interest
After getting admission to medical college, most students lack interest in their further studies. Staying in hostels also makes them tension free from studies. It makes the study tough for them. They used to study only before the exams. But doing this will cost them failure in their professional exams. Focus on your aim and stay on the track of excellence. You should also have fun enough during these years. But don't prefer it over your studies. You must have interest in studies so as to answer No to Is Mbbs har
Cramming the book lines
Most students think they have to remember the book lines as they do in 11th or 12th. There is no need to remember each and every line of the book. Try to memorize the basic concepts and details. Don't go for cramming the books. It will give you nothing in return. Read your preferred book. Mark the important line. Understand the basic concept. Revise the main concept. That's enough for remembering. Once you know how to learn things, you will also say No to Is MBBS hard.
Ignore guidance from seniors
Most students think that seniors only put fear in them regarding the study of MBBS. They take their advice for granted. Don't ignore their advice. They will help you to achieve the best score. In addition, they will also guide you on how to cover the syllabus. Moreover, they can also help you in learning bookish knowledge. Follow their advice and try to apply the same.
What are the best study tips to excel in MBBS?
Choosing MBBS as a career demands a lot of hard work and proper time. One needs to put effort to answer no to the question Is MBBS hard? In addition, it also requires a skillful approach with learning capabilities. It helps the students to work under pressure and stressful conditions. As you have to apply the same in your clinical practice. As an MBBS graduate, you must be able to learn skills to their perfection with vast knowledge. Here are some of the study tips to help you learn in a better way.
Study in a skart manner. Don't go for learning every single line. Build your concepts with proper study material. You can also make study notes to help you in revision. In addition, you can also do group study for better learning.
Set a proper schedule for study. MBBS requires consistent hard work. If you are unable to study properly, you may face failure in exams. It needs proper attention and time to grab the knowledge of medicine.
If you find any topic tough, study that topic when you are fresh. It will help you remember that topic. Change your study approach according to your comfort.
Must practice past year's papers to know about the study pattern. In addition, it will also help you to get an idea about which kind of questions examiners ask.
If you find any subject difficult, you should to the concerning teachers. They will help you to study in a better way. In addition, they have vast information and experience to understand the difficulties of the students. Moreover, they can also encourage you to a better way of learning.
Besides studying, don't forget to take a proper nap to relax. In addition, go for hangouts to fresh yourself. Studying is a part of life. But don't burden yourself with studying only. Take out time for yourself too and enjoy your learning.
Conclusion
Is MBBS hard? Most students ask this question to pursue their careers in a positive direction. Parents are also concerned about this question. This article will help you to deal with the common misconceptions trending in the students. Besides the lengthy syllabus of MBBS, if you follow the proper schedule, you will not find any difficulty in MBBS. It's all a game about your hard work and consistency.
Once you have fitted your feet in MBBS with your hard work, you will love to study the amazing subjects of MBBS. Following the study tips given by your seniors, you will get positive energy regarding the study. Nothing is hard in MBBS. Your mind makes it hard. The actual answer to Is MBBS hard is depends upon how you perceive MBBS and it's vast syllabus. Do at least one to two hours of study daily, you can easily chase your dreams.
Frequently asked questions (FAQs)
Is MBBS hard for average students?
If you have passed the entrance exams, you are above the average level students. The entrance exam is a criterion to select the best ones from the others. MBBS is not as hard as students think.
What if I fail any professional exam?
There is nothing to worry about. Most of the students are unable to achieve passing marks. But this doesn't mean they can't. You can pass your failed subject in the supplementary exams. Work hard and stand among the passed students.
What is the hardest subject in MBBS?
No subject is harder enough to study. Your choice and interest make the subject hard. Some people find anatomy difficult whereas some love to study anatomy. It is all a matter of your interest. Once you have developed an interest in the subject, you will love to learn and remember even the minor details.