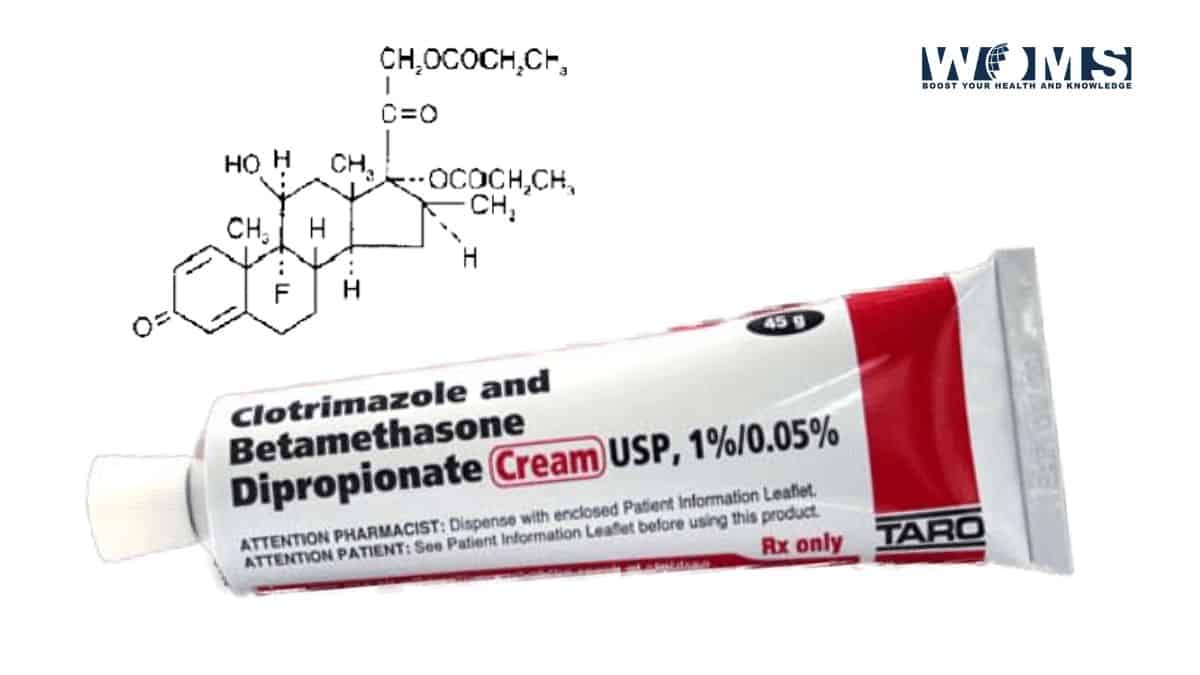 Clotrimazole-betamethasone is a combination medication used topically on the skin to combat topical fungal infections such as athlete's foot and ringworm disease. This formulation cream contains two active principles, clotrimazole and betamethasone. It can also be used for other conditions; contact your physician if you have any queries.
Common brand name of Clotrimazole and betamethasone
Lotrisone
Lotrisone (Clotrimazole and betamethasone dipropionate cream) is a combination of an azole antifungal (Clotrimazole) and corticosteroid (Betamethasone dipropionate cream), for tropical use.
Forms of medication available
Cream (15g, 45g)
Lotion (30 mL)
Function of clotrimazole
Clotrimazole is an antifungal that belongs to the azole subgroup. It prevents the formation of a component of the fungal cell membrane called ergosterol by interfering at the lanosterol synthesis step. In this way, there is a failure to form the fungal cell membrane, and hence it retards fungal growth when applied to the skin.
The function of betamethasone
Betamethasone is a corticosteroid that inhibits the phospholipase A2 enzyme and inhibits arachidonic acid and prostaglandins synthesis. This results in suppressing the inflammatory reaction at the infection site, reducing swelling, itching, and redness.
Diseases for which you can use it
It is an antifungal and can be used to treat topical fungal infections called dermatophytoses (epidermophyton and trichophyton), such as:
Athlete's foot or jock itch
Ringworm
Tinea capitis (topical fungal infection of head)
Topical fungal infection of the groin: Tinea cruris
Tinea pedis (topical fungal infection of feet)
Topical fungal infection of the trunk: Tinea corporis
Directions for use
Read thoroughly the leaflet that comes with the medication before use. Use it according to your doctor's prescription.
Strictly use this clotrimazole and betamethasone cream topically on the infected areas. Shake well before use. First, clean the area with an alcohol swab and let it dry. Then apply a thin layer of the medication and rub gently. Do not apply more quantity than that directed by the physician.
Do not wrap or cover the area with any cloth or bandage. Wash your hands thoroughly after applying and avoid touching your hands to other areas of the body as there is a risk of spreading the infection via infected hands. In case of using on hands, do not wash hands after application. When applying to the groin area, wear loose-fitting clothes so that the site does not come in contact with your clothing.
Do not use this medication in areas such as inside the mouth, inside the vagina, eyes, or nose. In case of contact, rinse the area immediately with plenty of water. Do not swallow. Do not use it on healthy skin.
Side effects of Clotrimazole and betamethasone
Common side effects of this medication include:
Redness or erythema of the skin
Burning sensation on the skin
Inflammation of hair follicle
Severe itching
Skin rash
Sudden pain at the site of application
Paresthesia (loss of sensation) of skin
Acne formation
Rare side effects of the medication include
Thinning of skin
Headache and dizziness
Diminished function of adrenal and pituitary gland
Increased pressure in the eye (glaucoma)
Severe skin reaction
Stretch marks on the skin
Blister formation on the skin
Dryness of skin
Hair loss
Skin irritation
Fever
Cataracts (posterior subcapsular cataracts)
A decrease in pigmentation of the skin
Elevated blood sugar levels
How long can it be used?
The duration of usage depends on the type of infection being treated and varies from patient to patient. Ringworm requires treatment for two weeks, whereas athlete's foot requires therapy for four weeks.
Do not use the medication for a more extended period than that prescribed by your physician. Even if symptoms disappear after a few applications, continue applying the medicine for the period your physician has prescribed. Stopping the use beforehand can cause a relapse of the infection. Do not increase or decrease the dose of medication unless you consult your physician.
Proper application of the medication, including its dose, duration, and frequency, can help you to recover from the infection faster. So follow the instructions of your doctor strictly.
Contraindications of Clotrimazole and betamethasone
This medication shouldn't be used in cases of:
Hypothalamic and pituitary insufficiency.
You are pregnant or plan to get pregnant.
Lactating mothersbecause it can pass to the breast milk
In patients above 60 years (risk of thinning skin or ulcers)
On burned or damaged skin
Peripheral arterial disease
An allergic reaction to betamethasone or other steroids
Allergic reactions to other antifungal medications
Diaper rash/ diaper dermatitis
Children younger than 17 years
Reactions with other medications
Certain medications can have reactions when given with other medicines, so they should not be used together.
When topical medications containing nystatin (another azole antifungal) are used along with clotrimazole-betamethasone dipropionate, a severe reaction is observed. Do not use desmopressin along with clotrimazole and betamethasone dipropionate. The other medications that cannot be used with this medication include:
Bupropion
Celecoxib
Ciprofloxacin
Choline salicylate
Droxicam
Diclofenac
Estradiol
Flufenamic acid
Gemifloxacin
Ibuprofen
Indomethacin
Ketorolac
Levofloxacin
Mefenamic acid
Meloxicam
Norfloxacin
Phenylbutazone
Parecoxib
Rafecoxib
Tacrolimus
Tenoxicam
Valdecoxib
Lomitapide
Before starting use, inform your doctor about the other medications you already use so that your doctor can stop the particular drug or change its dose if they react with clotrimazole-betamethasone.
The other medications which cause an increase in the side effects of the medicine include:
Aspirin
Atracurium
Ethinyl estradiol
Licorice
Desogestrel
Fosphenytoin
Mestranol
Medroxyprogesterone acetate
Norgestrel
Phenobarbital
Phenytoin
Rifampin
Reactions in case of other medical problems
Inform your doctor if you suffer from other medical problems as it can interfere with the use of this medication.
Tell your doctor if you especially have the following medical problems:
Tuberculosis affecting the skin
Bacterial or viral infections of the skin
Diaper rash
Chickenpox (varicella-zoster infection)
Herpes infection
Glaucoma
Immune system diseases
What should I do if I missed a dose?
If you missed a dose, apply the cream as soon as possible when you remember. If it is already the time for the second dose, skip the first and use the second dose on time. Do not take a double dose at a time.
Instructions to follow
Keep out of the reach of children and pets.
Do not place in the refrigerator.
Do not use it after the expiration date.
Store at room temperature (between 15 to 30 degrees Celsius) in a dry place.
Do not use other skincare products or night creams on the infected areas after applying the medication.
Do not use it for infections you catch later. You can only use it for those infections for which your doctor prescribed you the medication.
In case you plan to discard the medication, do not flush it down the toilet. Discard it properly and contact the waste disposal company.
Do not recommend this medication to other people even if they have the same symptoms as you had.
Do not apply the medication to your underarms or face.
Do not use the medication for other diseases for which the doctor did not prescribe it.
When to contact your doctor?
Contact your doctor or health care provider if:
the symptoms do not improve in a week when applying to groin
the symptoms do not improve in 2 weeks when using to your feet
If symptoms worsen
Frequent urination
Blurred vision or headache
Folliculitis
Overdosing of Clotrimazole and betamethasone
Overdose of this medication can have severe effects. If a person has overdosed on the medication and has serious symptoms like shortness of breath or fainting, report to the doctor as soon as possible or the poison control center.