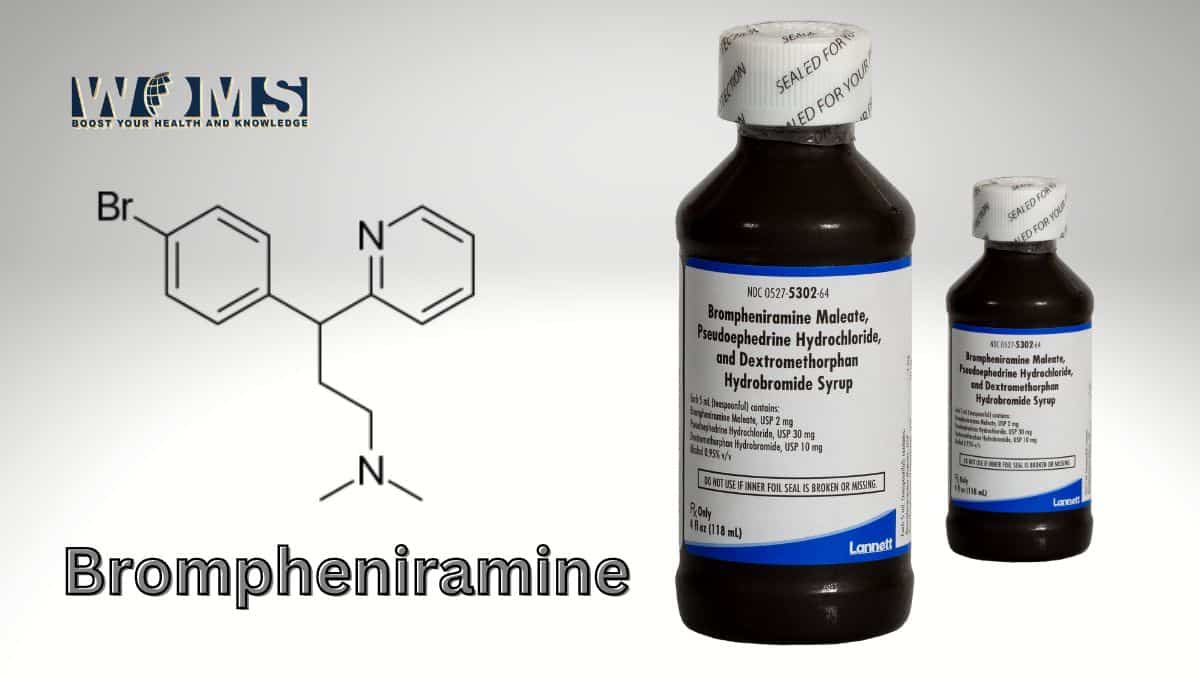 Bromphen is a pharmacological medication used for the common symptoms of allergies, flu, common cold, hay fever, or any other breathing disorder. It contains different ingredients, working as a decongestant and antihistamine. Brompheniramine is available in multiple forms, including syrups, tablets, powder, chewable, or extended (long-acting) capsules.
Generic name: Brompheniramine
Chemical formula: C16H19BrN2
Drug class: Antihistamines
Brand name of brompheniramine: Bromaphen, Bromax, Cophene B, Dimetapp Allergy, Dimetane Extentab
This article covers all the significant details, including uses, side effects, contraindications, and precautions related to Brompheniramine. There are multiple generic names for this pharmacological drug, having bromphen as the principal active agent. Let us have a detailed look at the primary features of this Brompheniramine drug.
What is the generic name of bromphen?
The generic name of bromphen is brompheniramine available with different other combinations.
Pharmacology of brompheniramine
Brompheniramine or Brompheniramine is an antagonist of histamine H1 receptors. In addition, it works as a moderate-level effective anticholinergic ingredient and antimuscarinic agent. Brompheniramine is metabolized in the liver through cytochrome P450 isoenzymes.
What are the common uses of bromphen?
Bromphen acts as an antihistamine drug. It helps to relieve allergic symptoms including watery eyes, itchy eyes, nose or throat, and continuous sneezing. It is recommended not to use this drug for young children below 6 years of age. There are multiple prescribed forms of this Bromaphen drug. Some specific products like long-acting capsules or tablets are not recommended for children of up to 12 years of age.
The Bromax drug limits the symptoms but does not have any effect on the underlying cause. These drugs also have multiple serious side effects. To avoid the risk of side effects, you must consult your physician regarding the use of this medicine. It is recommended to not take multiple drugs having the same formula to relieve cold and cough symptoms. It may induce sleepiness. So, do not use this medicine in infants to make them sleepy.
If this drug is not working to improve the symptoms, consider asking your physician about any effective alternative to this medication.
How should we use this medication?
Bromphen dx oral is available in a combination with other cold and cough medications in different forms. It is available in syrup, tablets, chewable, extended-release capsules, and tablets. The syrups and chewable tablets are advised to take almost every 4 to 6 hours according to the requirement. In contrast, the extended-release capsules and tablets are usually taken after every 8 to 12 hours. Must read the proper directions mentioned in the package label or prescription form. Ask your doctor or pharmacist to elaborate if you do not understand any part.
Do not take less or more than the mentioned dosage. If you take less, it will not work properly to relieve the symptoms. In contrast, if you take more than the needed dosage, it may induce serious side effects. As Bromaphen dx oral usually comes in a combination with other cold medications, consult your doctor for the best suitable medicine according to your symptoms.
Check the prescription before taking two or more medications at the same time. If these medications contain the same active ingredient, do not take them together as it may lead to overdosage of the drug. Nonprescription cough and cold combination drugs that contain Bromaphen or brompheniramine can induce serious side effects or even death in young children. Do not use bromphen-containing drugs for children under age 6. Before you give a Bromaphen-containing drug to a child, you must confirm the dosage from the prescription package.
If you are taking Bromax in liquid or syrup firm, do not use a household spoon to measure the dose. Use a proper measuring spoon for the accurate dosage. In addition, if you are taking extended-release capsules or tablets, swallow the tablets as a whole with water or milk. If your symptoms last for more than 7 days even with the use of the medication, consult your doctor.
What are the side effects of bromphen?
Besides having beneficial effects, every drug possesses a variety of side effects. There are some side effects associated with the use of bromphen. Let us have a look at the mild and severe side effects of bromphen.
Dizziness or drowsiness
Blurred vision
Headache
Stomach upset
Constipation
Dry mouth, nose, or throat
Nausea
Chest congestion due to the thickness of the mucosa
These are the mild side effects of the bromphen. This medication can make your mouth feel dry and thicken the mucus, making it difficult to breathe. To relieve dry mouth, you can use sugarless candy, ice chips, chewing gum, or drink water. In addition, to prevent dizziness, get up slowly when moving from a sitting or lying position. If any one of these side effects gets worse, consult your doctor or pharmacist immediately to overcome it.
The side effects of Bromax can also be severe, involving mood changes or mental disturbance (hallucination or confusion), tremors, ringing in the ears, difficulty in urinating, bruising, bleeding, irregular heartbeat, or seizures. In addition, a serious allergic reaction is quite rare. But, if you feel any of these serious side effects, call your doctor immediately to prevent any serious problems. There may be different other side effects while using bromphen. If you notice any other symptoms, consult your doctor as soon as possible.
What are the special precautions regarding the use of bromphen dx oral?
There are some special precautions regarding the use of every drug. Here are some of the following precautions before the use of bromphen dx oral.
You should tell your doctor or pharmacist if you are allergic to bromphen or any bromphen-containing drug. In addition, check the label package before the usage of any drug to know about any allergic ingredients in the preparation.
You should tell your doctor about yeh prescription and nonprescription drugs you are taking or planning to take. There are different drugs that may interact with each other to slow down the mechanism of action of the drug. Therefore, your doctor must know about your drug history for any reason. Moreover, you must mention the following drugs if you are taking them
Medication for colds, allergies, hay fever, antidepressants, anti-epileptics, monoamine oxidase inhibitors, muscle relaxants, narcotic medications, sleeping pills, or tranquilizers
You must tell your doctor if you are suffering from glaucoma (increased pressure in the eyes), asthma, or any other breathing problem. In addition, also provide a detailed medical history if you are suffering from any medical problem.
You should tell your doctor if you are pregnant or breastfeeding. As these drugs can affect your normal pregnancy period negatively. In addition, if you become pregnant while using bromphen, consult your doctor regarding the further use of this drug.
If you have a planned dental or any other surgery, you must inform your doctor or dentist about the use of bromphen.
Bromphen dx oralcan make you feel drowsy. Do not drive or operate machinery after using the tablet.
You should avoid alcohol while using bromax. Because alcohol can worsen the side effects of bromphen.
People of the older age category or more than 65 years must consult the doctor about the risks and benefits of using bromphen PSE-DM-Acetaminophen Syrup. Dimetane Extentab is usually not recommended for the age above 65 years because of increased risks.
What are the dietary precautions before taking bromphen drugs?
There are no specific dietary precautions before using this drug. You can take this drug with or without food. Moreover, you can use this drug with simple water or milk products. There is no such worry about the use of this drug unless your doctor suggests you take some dietary precautions. You can continue your normal diet while using bromphen PSE-DM-Acetaminophen Syrup.
What are the common drug interactions of bromphen?
Drug interactions may interfere with other medications to increase the risk of serious side effects. If you are taking any medication, you must consult your doctor regarding the medication. Do not stop or change the dosage of any medication unless your doctor suggested you change it. Bromphen interacts with different other drugs.
Taking monoamine inhibitors with Bromaphen can produce fatal drug interaction. It is recommended to avoid monoamine inhibitors for two weeks with the use of bromphen. Ask your doctor properly when you need to start or stop the medication to prevent any side effects. There are also some other drugs that may interact with bromphen PSE-DM-Acetaminophen Syrup. Antihistamines applied over the skin, antispasmodics, beta-blockers, medication for Parkinson's disease, guanethidine, methyldopa, and tricyclic antidepressants can also interact with bromphen to worsen the side effects.
Do not take bromphen with such medication that can cause drowsiness like opioids or cough relievers. Check the label on all your medicines to know about the active ingredients. In addition, ask your physician or doctor to prescribe the medication according to your condition.
What are the different brand names of bromphen?
Bromphen comes under different brand names in different countries. The most common brand names include:
Bromfed
Dimetapp
Bromfenac
Dimetane
Lodrane
Veltane
Disomer
J-Tan
These all preparations are commercialized as maleate salts.
How to store and dispose of this medication?
Keep the medication in a tight container or tightly close the container it came in. Keep your medicine away from the reach of the children. Store your medication at room temperature and away from heat and moisture. To protect your young children from poisoning, properly lock safety caps and put your medication in a safe place away from the reach of your children.
Unneeded medications should be disposed of properly so as not to damage pets, children, or any other person. In addition, you should not flush the medication in the toilet. The best way to dispose of the medication is through a medicine take-back management. Talk to your pharmacist or contact your local garbage/recycling department to know about take-back programs.
Conclusion
Bromphen is a brand name of a drug, containing brompheniramine as an active ingredient. It works as an antihistamine to manage the symptoms of flu, common cold, allergies, and hay fever. In addition, Dimetane Extentab is also available in combination with different other cold and cough medications. It is available in different forms like liquid, chewable, extended-release capsules, and tablets.
Liquid and chewable forms are usually repeated after every 4 to 6 hours. Whereas, extended-release capsules and tablets are usually repeated after every 8 to 12 hours according to the need. Besides this, you must provide your proper medical history regarding the intake of any other medication. Bromaphen can interact with different medications to produce severe side effects. This article covers almost every aspect related to the use of bromphen PSE-DM-Acetaminophen Syrup. Read the article carefully to get answers to your questions.
Frequently asked questions (FAQs)
What should I do if I forget to take a regular dose?
Bromphen is usually taken when needed. If your doctor advises you to take a regular dosage of bromphen, take the normal dose as soon as you remember. But if there is a time for the next dose, skip the prior dose. Continue taking your normal regular dose. Do not take a double dose if you forget to take medicine.
What should we do in case of an overdose or any emergency?
If the patient is having some serious side effects or overdosed and has breathing problems, call the emergency numbers. In case of an overdose, you can call a poison control center to prevent further consequences. The common symptoms of overdosage include:
● Agitation
● Hallucination
● Confusion
● Flushing
● Large pupil
● Muscle twitching
● Seizures