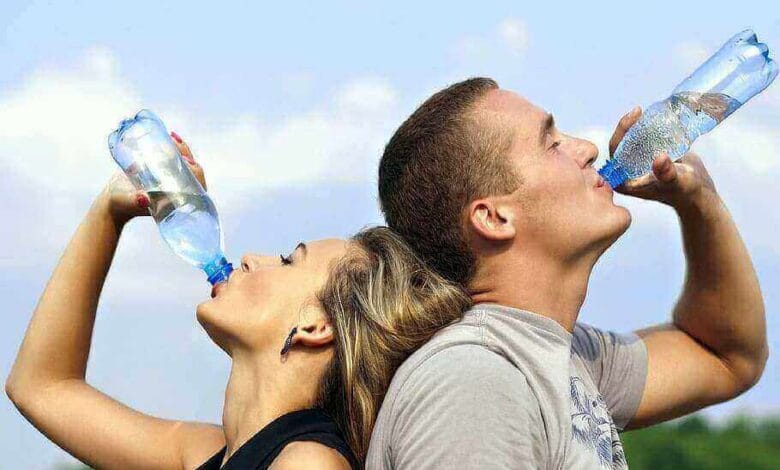 🖊 Last updated on February 1st, 2020
Introduction
Scientifically speaking water is a universal solvent composed of two molecules of hydrogen molecules and one molecule of oxygen, existing in three states, i.e. gaseous, solid and liquid. It is considered a fundamental element along with earth, ether, air and fire. Water is a vital element that makes up to 90% of total body weight, i.e. heart and brain composed of 73% water, lungs around 83%, the skin contains 64%, kidney about 79% and even bones are watery and comprises 31%.
Water in Ayurveda
Water or "Apas" in Sanskrit is one of the Pancha Mahabhutus (Five elements) which is believed to be an element that soothes all the pain and inflammation in the body. It represents Soma (cooling quality) and helps in balancing Tridosha, i.e. Pitta, Vata and Kapha dosha. It plays an essential role in balancing Pitta dosha, supports Kapha and prevents dryness of Vata Dosha.
Qualities of water
 It is conjectured that if the water is consumed between meals acts like nectar while if taken at the end of the meals is same as poison. In Ayurvedic scriptures, it is mentioned that we should consume water either one hour after the food or half an hour before eating. Water is known to be Jeevan (life), Tarpana (satisfying), Hrudya (heart), Hlaadi (revitalizing), Bhuddiprabhodana (activating the mind) and Mrushta (pious). Water maintains Tridosha if properly consumed, the health of Dhatus (tissues) and slows down the ageing process.
Why is water essential to human health?
"Are you drinking enough eight ounces of water every day?" we always hear this phrase from experts and doctors. Because water comprises a significant part in the body as a serum, saliva, urine, sweat, cerebrospinal fluid, plasma and cytoplasm. Here are the beneficiaries of drinking enough water-
Drinking water stored in silver and copper vessels
To Ayurvedic principles, we should always consume water stored in Tamba (Copper) and Chandi (Silver) vessels because Tamba is packed with anti-oxidants and anti-bacterial properties that help in soothing Tridosha and boosts the healthy immune system. On the other hand, silver (Chandi) improves digestion and imparts cooling effect in intestines because it passes property to remove free radicals from the body.
Regulation of body temperature by drinking adequate water quantity
Average body temperature, i.e. 37.5°C or 99.5 °F, is regulated by a process called thermoregulation governed by hypothalamus present in the brain. The body uses four heat exchange mechanisms like conduction, convection, radiation and evaporation to maintain the homeostasis. This phenomenon regulates in removing excess body heat through the evaporation of water as sweat, and this requires proper replacements of fluids by consuming adequate volumes of water.
Water delivers oxygen throughout the body
is composed of more than 90% water, and blood comprises cells (45%) and plasma (55%) that supplies essential nutrients, Vitamins, oxygen and hormones throughout the body. 
Water acts as a cushion in the brain, spinal cord and other delicate tissues
all know how it feels when our eyes, nose or mouth gets dry! Water performs many functions other than quenching thirst, keeping our body correctly hydrated balances brain structure and function properly. Dehydration often causes reduced thinking and reasoning ability. Moreover, it is an excellent lubricant for joints.
Water maintains healthy skin 
Adequate amounts of water every day helps your body inside out by improving blood circulation, cleansing, detoxifying and prevents your skin from being flaky, dry and tight. Water improves complexion, reduce puffiness, wrinkles, delays ageing, clear acne, and maintains pH, which helps in making your skin blemish-free while keeping you glowing.
Water maintains healthy digestion
Various digestive ailments like constipation, acid reflux, nausea, gastritis etc. which is a result of decreased intake of fluids. Healthy bowel movement requires proper water management to work correctly, which keeps your digestive system smooth and flexible.
Water prevents kidney damage
Fact is known that our body weight comprises 60-70% of water, and it is necessary to function correctly. Our kidneys are beneficial in removing toxins and waste in the form of urine, which is possible with proper blood circulation through blood vessels. Water helps prevent kidney stones and treating Urinary tract infections (UTIs).
In weight loss and obesity
The Epidemic of obesity in adults is a primary concern nowadays, which causes the onset of various disorders like cardiovascular disorders, diabetes mellitus and cancer. Drinking adequate amount of water changes human physiology that ultimately improves blood circulation and helps in flushing out toxins out of the body. Moreover, water consumption reduces energy intake, which suppresses unhealthy eating habits.
Learn about: Plyometric Cardio Circuit
Beneficial in maintaining blood pressure
Amount of water increases viscosity in the blood, which results in fluctuating blood pressure levels and hypertension. 
 

Formation of saliva and mucus
Comprises 98% water including mucus, certain enzymes and electrolytes etc. which helps in the breakdown of the food we eat. Saliva prevents friction and keeps our nose, eyes and mouth moist.
How much water do you need? 
Our body dodges water through urine and sweat, which needs an adequate intake of water daily. So we should compensate for lost fluids due to exercise or excess heat. According to the Institute of Medicine (IOM), males are recommended to drink at least thirteen cups (131 ounces) of water while for women nine cups (95 ounces) are adequate. Every individual should take hints from your body like parched lips, dry lips, urge to drink water etc. and consume water according to the requirement of your body. 
Tips for drinking water the right way
Always sit down to drink water rather than standing because it disrupts the fluids and results in increased accumulation of fluids in joints which ultimately leads to arthritis and gout.

Avoid gulping all the water at once instead prefer smaller sips at short intervals.

Avoid drinking cold water which interrupts healthy digestion and metabolism.

It's a healthy habit to drink water first thing in the morning, which is called 'Ushapan' that helps getting rid of many diseases. This habit flushes out all the toxins and helps in cleansing.