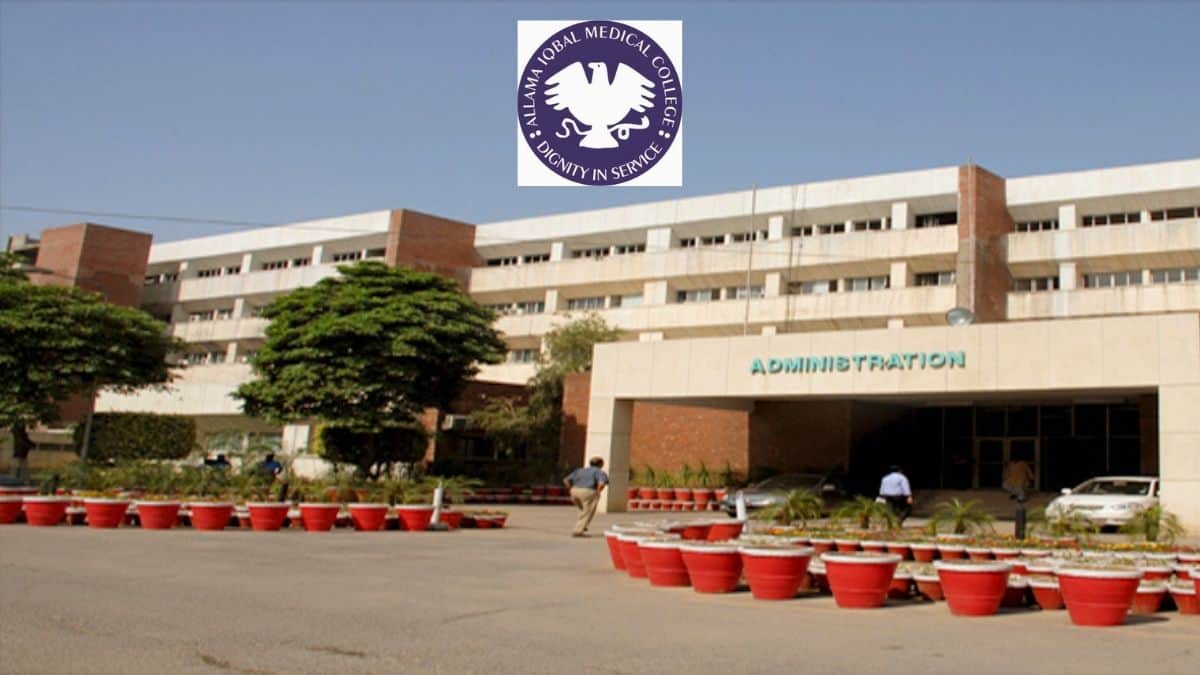 College life is one of the most awesome experiences of life. When a student comes from school life to college life, he/she would definitely feel the difference between school and college life. In school life, one feels like one is still too young. But when it comes to college life, a feeling of adulthood suddenly rushes to the mind. When someone embarks on their journey in a medical college is important to know which college to study. Allama Iqbal Medical College is one of the important medical colleges.
Some students enjoy the period of college life and experience new things in their life, most importantly making new friends. While some other students focus only on their studies and their careers. They work hard in their studies for a bright future. Talking about a medical college, it's a place where hundreds of students study to become a doctor, nurse, or practitioner. Lets' discuss the Allama Iqbal Medical College of Pakistan where a large number of students want to get admission opting for their medical studies.
Overview of Allama Iqbal Medical College
The first name of this institution was 'Lahore Medical College'. It was being developed by the government in the 1970s. Professor Dr. Akhter Hussain was the first and foremost Principle of this college. Later on, some other professors named Dr. Sanaullah, Dr. Muhammad Afzal Sheikh helped in the management of different departments of the college.
In 1975, the total students were around 300. Later in 1977, the name changes to Allama Iqbal Medical College. It was a Government initiative to encourage medical and research for the students in Pakistan. The mission of this college is to promote the professional and research-related studies. Besides studies, the institution aims high to inculcate moral values in the students as well. Thus, it gives importance to such values as; merit, leadership qualities, moral ethics, professional and research-oriented studies.
Aim of Allama Iqbal Medical College
The medical college aims to give the opportunity to every single student for a progressive study. Skilled professors are there to promote high-class education to their students. The fee structure is quite reasonable for providing quality knowledge. Moreover, the college has been affiliated with one of the best hospitals in the country, Jinnah Hospital, Lahore where a large number of doctors from Allama Iqbal Medical College are practicing.
In the Allama Iqbal Medical Hospital, the foremost duty of the doctors is to treat their patients adequately. They not only give appropriate treatment to the patients but also give enough attention to every single patient. Having good behavior with the patients is the motto of every single doctor of Allama Iqbal Medical College's hospital.
Merit is given preference the most. The policy of the college is to give admission only to those students who work hard and come to the merit lists. So, it's not an easy task to get admission in this medical college unless and until one works day and night and clear the entry test of medicine.
History of AIMC
Being founded in 1975, the college was firstly been settled in an incomplete building. The first class of medical had less than 400 students. And to accommodate the students, two shifts were used to be conducted in order to accommodate all the students.
Then later on in 1980, it was decided that a separate campus would be built that will be the college's personal property. So, a budget of around 670 million was been made. This amount was divided into two portions to establish the new building of the college and secondly for the equipment. So, in 1988, the construction of Jinnah hospital, which was the being affiliated with the college started.
Prior to Jinnah Hospital, the Services Hospital was the teaching center for the doctors. After then, the medical college got shifted into its own building and after completion, the Jinnah hospital was declared as the teaching center.
Courses In the Allama Iqbal Medical College
In AMIC, there are several courses related to the medical field. Following is the list of the courses at present:
Undergraduate Program:
MBBS
Doctor of Physiotherapy (DPT)
BS Nursing
Medical Lab Technology
Allied Health Sciences
In allied health sciences, there are further courses. The list of these courses is:
Dialysis Technician
Radiograph Technician
Operation Theater Technician
Medical Lab Technician
Dispenser Program
Public Health Technician
So, these are all different courses being studied by professional doctors and skilled lecturers. Also, there is postgraduate programs as well. Such as Fellow of College of Physicians and Surgeons Pakistan (FCPS) and MD/MS.
Allama Iqbal Medical College Fee Structure
The fee structure of AIMC is quite affordable.
B.Sc-Medical Laboratory Technology (4 years program), Fee is 19,800
MBBS: (5 years program), Overall Fee 15630, Merit 2021: 91.4364
B.NURS-Nursing (4 years program), Fee is 19,800
B.Sc in Nursing (2 years program), Fee is 19,800
B.Sc in Physiotherapy (2 years program), Fee is 19,800
Allama Iqbal Medical College Hospital
In the beginning, the Services Institute of Medical Sciences Hospital had been a part of the college. Later on, after the construction of Jinnah Hospital, the hospital was officially affiliated to AIMC. It is a teaching center for doctors to practice medicine.
Students practice their studies here in this hospital and experience their new skills. There are senior and professional physicians in the hospital who are quite experienced in their departments such as the department of medicine, surgery, radiology, obstetrics, and gynecology.
Allama Iqbal Medical College Admission Process
Seeking admission to a medical college is not an easy job. One has to work diligently to get admission here. Every year, around 35,000 plus students appear in the entry test for medicine. Out of these, only a few thousand of the students are being selected. The admission process of AIMC is the same has been told of PMDC.
For MBBS, a total of 135 seats is available in open merit. 1 seat is reserved for the disabled student. 1 seat for FATA division, 2 seats for foreign students, Azad and Jammu Kashmir and northern areas seats are 12, and 50 are the additional seats and 21 seats for the foreign students under technical assistance program. So total seats:224
The admission process for AIMC requires MDCAT. Passing this test and after the display of final merit lists, those students mentioned in the list will be able to seek admission in AIMC.
Allama Iqbal Medical college Hostels
In order to accommodate those students belonging to different regions or cities, the administration has stepped up beautiful hostels. There are 4 hostels for the boys 2 hostels for the girls and one hostel for the nurses. All these hostels have a TV lounge, two wings, and three floors. Each of these hostels is under the guidance of a Warden. The students have been provided with quality mess and internet.
Moreover, there is a separate residence for the staff in which the professors of the college are habitats. All the rooms are with well furnished and maintained.
 Allama Iqbal Medical College Logo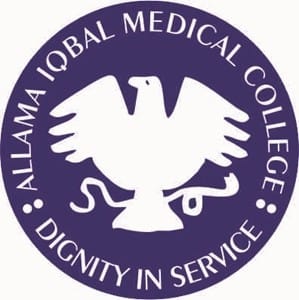 Address and Contact information
The address of AMIC is as following:
Allama Iqbal Medical College, Quaid e Azam Campus, Lahore Punjab. Pakistan
If anyone wants to contact, following is the contact number:
Contact Number (042) 99231443
Email Address: info@aimc.edu.pk  Allama Iqbal Medical College has very good administration. All the information about the college has been mentioned on the official website of the college. The official website of the university is: www.aimc.edu.pk