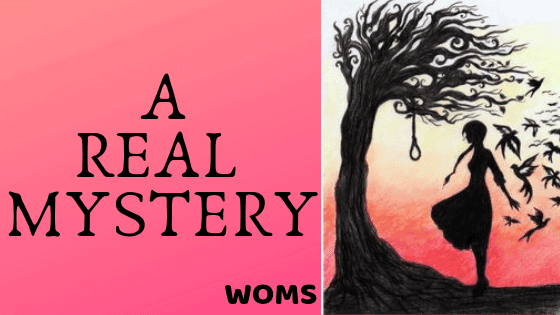 I still have a blurred image of my happy family in my mind a happy family of three, me and my parents. I can imagine my parents with me, a child who was born only after some years of marriage. When I was five, my mother was found hanging on the tree in front of our house, along with a paper. As I was a child I had no idea what was going on exactly. The news traveled to the whole village. All the villagers had gathered and taken the body down to the ground.
As my mother was seriously ill a few days back my parents had gone to the hospital. Due to our economic condition, my dad had to go to Qatar for some earning. He used to come once in two years or even longer. Mom used to look after the house. Due to her illness dad had been with us at that time. After they returned from the hospital, my mom seemed lost. She was not the mom she used to be; her habits, charm of her face had faded and her bright eyes were faint. Those days, I saw her crying and asked reasons she used to hug me very tightly and cry even harder. I had always seen her boldness, dedication had changed. She was weak those days and she was depressed. Dad seemed unsatisfied and angry with mom. I felt as if a devil had haunted our houses and happiness.
After mom's death, we could no longer stay at that house it wasn't a home anymore. It had no peace, happiness or satisfaction. The memory of mom never left us, so we had to leave.
Now, I am a grown-up, school going girl fighting with illness every second. Sometimes flu, rashes, fever and all. Me being healthy is more like a drama now. I have my aunt (mother's little sister) as my stepmother, but I never regard her as she is always my caring and loving aunt. She loves me like one's own mother does and never make me feel my mom's absence. Few months after mom had left us, dad had married her for my sake as he had to return to Qatar.
My dad was on holiday and had come home. One day, as I was passing by his room, I saw him crying desperately like a child. He was looking at the slip of paper and the television set. He was murmuring something that I couldn't hear. I went inside to figure out what was going on. The television was forecasting the hot news of the village where I was born and the issue was about the health campaign, twelve years back. I didn't know how the news was related to the paper dad was holding. What could be the reason that he broke into tears? I couldn't in the chain the mystery so I asked him. He hugged me and told me, "A Real Mystery".
"Twelve years back, exactly the year you were born, there was a free health camp in our village. She was three months pregnant with you in her womb. For your healthy intrauterine life, she took the vaccination. Almost all the pregnant ladies in the village participated in the campaign. After a few days of taking the vaccination, she developed fever, rashes, flu, and weight loss. I was in Qatar and couldn't come due to a visa problem. However, she said she was alright after a week and we thought it was due to pregnancy. Later you came to our life and we were happy. After two years she started developing the same symptoms but more and time too, I couldn't come to her. She also neglected her health, maybe because of poverty and lack of knowledge. She was always concerned about you and the household works.
You were very small and she was sick but we had a dream of providing you a quality education. So, I was working even harder. When you were four years old, I came back home because of her serious illness. We went to the hospital and checked blood, stool, urine. When I returned home, I couldn't believe that your mom was found to be HIV positive. After hearing it, we both became weak. I used to be angry with her. I felt as if she cheated on me so our relation went cold. I was her strongest point and I myself had misunderstood her, I didn't even try to find the reason behind it, so she went into depression. What could she except from others when I myself had neglected her? The society started raising questions on her character. She couldn't bear it, so she hanged herself."
By this time, dad's mouth had become dry his eyes moist and couldn't speak a word. He just gave me a paper and let me read it.
The reason my mother wrote that suicide note was the same that was being forecasted on television. My mother thought to be innocent, had to bear false accusations. I am also HIV positive and I wonder how society will treat me. I have done nothing wrong but the disease is in me, whom should I blame? What should I do next? Is killing myself only the option for patients like me?
Moral
HIV/AIDS is transmitted by contaminated syringe, infected blood transfusion, through placenta besides unsafe sexual intercourse. We should not hate HIV patients. Being in the medical field we should be careful about even small procedures we do because if not done properly they can lead the worst consequences.
By: Smita Banskota
Kist Medical college