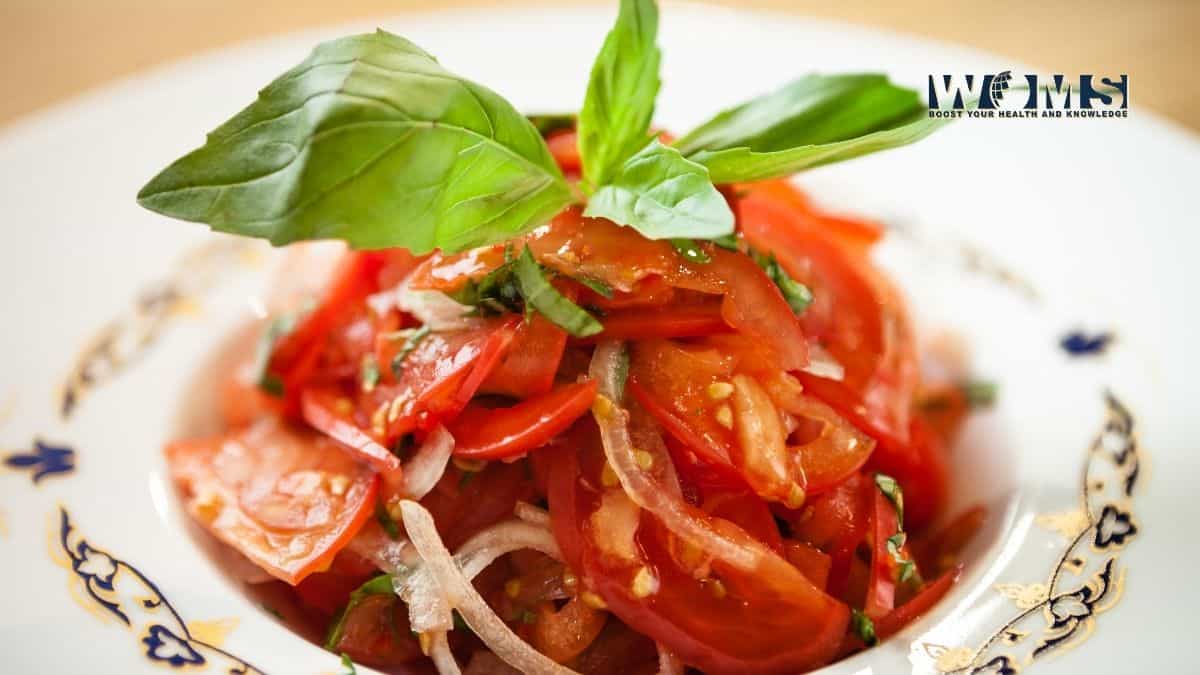 Are you in love with the fresh salads? Then tomato and onion salads can be best for you.
The tomato and onion salad is a marinated salad. Tomatoes and onions are chopped properly and then marinated with some seasonings and lemon juice or vinegar.
This salad is caloric efficient and it's best for weight-conscious people. The makings of the salad are easy too.
If you are planning to make the tomato and onion salad then this article is best for you.
In this article, we are going to guide you about the easy procedure of tomato and onion salad making, will let you know the nutritional profile of this salad, besides these, we will also let you know about some other benefits of eating this fresh salad.
How to make tomato and onion salad?
Want to make the fresh tomato and onion salad on your own? Here is the detailed procedure of tomato and onion salad making.
The salad is easy to make and in addition, it is tasty also. You can have a bowl of freshness in your hand in just 10 minutes or even less.
Ingredients:
The ingredients that are the specialty of the tomato and onion salad are easily accessible. You don't have to work hard to get these. The ingredients are.
Tomatoes
Medium sweet onions
Olive oil
Red vinegar
Parsley
Salt
Italian seasonings
Sugar
Garlic powder
Black pepper.
Instructions:
To give an appearance of the salad to your ingredients. The following steps are a must to follow. Follow these steps very precisely and concentrate on every proceeding step.
Wash the onions and the tomatoes properly with the water. Rub their surface well so the dirt on them gets cleansed also.
Now chop the onions and the fresh tomatoes. You can cut them in the slice or the other shapes also. It's all depends on your preference. 
Wash the parsley and chopped it very finely.
Take a medium-sized bowl.
Transfer the chopped onions and the tomatoes to the bowl and add salt, pepper, vinegar, and other seasonings to it.
Stir it well until all the ingredients get mixed properly.
Now it's time for the dressing.
Take the chopped parsley and sprinkle it on the top of your fresh salad.
Refrigerate it for some time and the salad is all ready to be eaten.


Nutritional profile of Tomaton and Onion salad:
The most important thing about a meal is its nutritional profile. People nowadays are more diet conscious and check the nutrition profile every time to decide to eat something.
The nutritional profile of the food directly affects your body and mental health. The onion and tomato salad is a fresh salad and its nutritional profile is given below.
1. Carbohydrates:
As we have added sugar in the salads this contributes to the carbohydrates. In addition to these added carbohydrates, the vegetables also contain some carbohydrates. On the whole, the amount of carbohydrates is not that much.
2. Fibers:
Fibers directly come from the vegetables. If we want to add more fibers to our salad we can increase the variety of the vegetables in our fresh salad.
3. Fats:
Fats in the salad come from the olive oil that has been added to the salad. These fats are good unsaturated fats.
4. Proteins:
The fresh salads are low on proteins. Salads don't contain any proteins in short. In addition, we haven't added any protein-containing ingredients also.
How to use tomato and onion salad?
Tomato and onion salad is a fresh Indian salad. The Indian people use this fresh salad with their main course. Some of the dishes with which you can eat the fresh tomato and onion salad are given below.
1.Chapattis:
You can have a fresh bit of tomato and onion salad with your chapatti. Have a fresh feel with this onion and tomato salad.
This tangy salad adds a tasty taste to your lunch or dinner. It is preferred to eat it fresh and don't preserve it for the dinner.
2. Rice:
People prefer this fresh salad with rice also. a spoon full of rice added with some tangy salad can give you the best taste.
Spicy and tangy taste together is THE BEST COMBO.
3. Curry:
Curry is another dish with which you can have a spoon of this fresh salad.
4. Plain:
You can have this salad plain also. People who are on diet prefer this salad plain without any main course.
You can have the best nutritional experience when you eat this salad plain, without any, the main course complimented with it.
Also read: Papaya Juice: A nutritious Juice
Conclusion:
Fresh salad lovers are spreader all over the world. People these days are inclined towards healthy diets and thus they must include fresh salads in their daily routine.
The tomato and onion salad is one of the fresh salads that is eaten by many people from all over the world.
Tomato and onion salad is super easy to make and it is super healthy and tasty also. You can have this with a variety of meals or can have it plain also.
If you want some best results from these salads. Then it is advisable to have them plain.
If you find this article helpful. Let us know in the comments section below.
FAQs:
What does a healthy fresh salad consist of? 
The healthy fresh salad consists of a variety of vegetables. Where there are more vegetables there are more fibers. These fibers help in Weight loss and involve bowel functioning. The best oil to use for fresh salads is olive oil as it doesn't contain any bad cholesterol.
How we can make our salads a full meal? 
Add some beans to your fresh salads and it is all ready to serve you as a full meal. Fresh salads contain all the nutrients and just lack proteins. When you add beans or pulses to them the proteins will also there in the nutrition profile of your salad.
Name some vegetables that can help in burning fat?
The fat-burning vegetables are.
Carrots 
Mushrooms 
Cauliflower
Broccoli 
Pumpkins 
Chilies 
Beans 
Asparagus.