Latest News
Styrene gas leakage at a chemical plant in Andhra Pradesh: 11 dead, 1,000 reportedly sick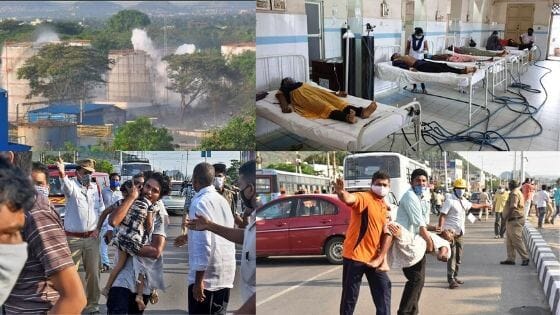 On Thursday, a gas leak from a chemical factory named Hindustan polymers( now LG polymers ) in Visakhapatnam killed 11 residents. There are more than 1000 people who fell sick after the gas leakage. In the incident, a 1st-year medical student and a six years old girl also lost their lives.
Reports stated that people in a three-kilometer radius complained of rashes even as many were found lying unconscious and faced respiratory distress (breathing problem).
The gas that leaked out from the chemical factory was styrene.
Here are live updates:
Chief minister Jaganmohan Reddy went to KGH hospital and took stock of the situation
.Authorities are spraying chemicals to neutralize the vapors.
Over Eight hundred people were relinquished from villages surrounding the factory.
Two hundred were moved to various hospitals, of which more than two dozen people are critically ill and are on ventilators, State DGP said.
The South Korean parent company has said that the gas leak is under clout, and they are investigating the distinct cause.
TDP president Chandrababu Naidu has appealed to the central government to call global medical experts who can treat those affected by styrene gas leaked.
Prime minister Narendra Modi chaired a meeting of NDMA and took stock of the situation.
Around 8,000 people to be screened around the distressed area.
Authorities have asked people to cover their faces with a wet cloth.
What is styrene gas?
Styrene is a poisonous gas that affects the eyes, skin, throat, and even the central nervous system. The Director-General of NDRF S N Pradhan also stated that the gas is highly flammable. Styrene, when burnt, becomes highly poisonous.
According to the experts, when styrene is inhaled, it causes nausea and dizziness. If one gets exposed to this gas, he or she should get immediate treatment.
The company that is responsible for the leakage of this poisonous gas is LG polymers. The company used Styrene for the manufacture of polystyrene products. This includes an electric fan blade, cutlery, cups, and some cosmetic items as well.
According to Dr. CV Rao, a person can face complications in the lungs and difficulties in inhaling oxygen, depending on the intensity of exposure to styrene. He added that fatality due to styrene is the result of damage to the central nervous system.
According to Dr. Raghunatha Rao, the short term complication of inhalation of styrene includes gastrointestinal effects and irritation of eyes. He added that the long term effects of styrene poisoning might consist of serious complications. According to a study, the women working in such factories often experience a high frequency of abortion and less frequency of birth. Some studies also show that there is an excellent chance of leukemia and lymphoma in such people. Similarly, overexposure of styrene damages the central nervous system.
Are elderly people affected more by styrene?
Dr. K. Satya Vara Prasad, Director of Vaisakha institute of medical sciences, said that gas leakage could have a significant impact on elderly people. Its effect is also more on people with respiratory ailments.
According to Dr. Avinash Pathengay, the gas can affect peripheral neuropathy and can also cause severe weakness as well as fatigue.
After this incident, thousands of people are being evacuated from the place of occurrence. The Visakhapatnam police chief claims that the situation is now under their control. However, there are various medical staff ready to provide emergency facilities in the spot. There are thousands of people who are being treated in nearby hospitals.