Periodontal Disease: Treatment Options After Tooth Loss?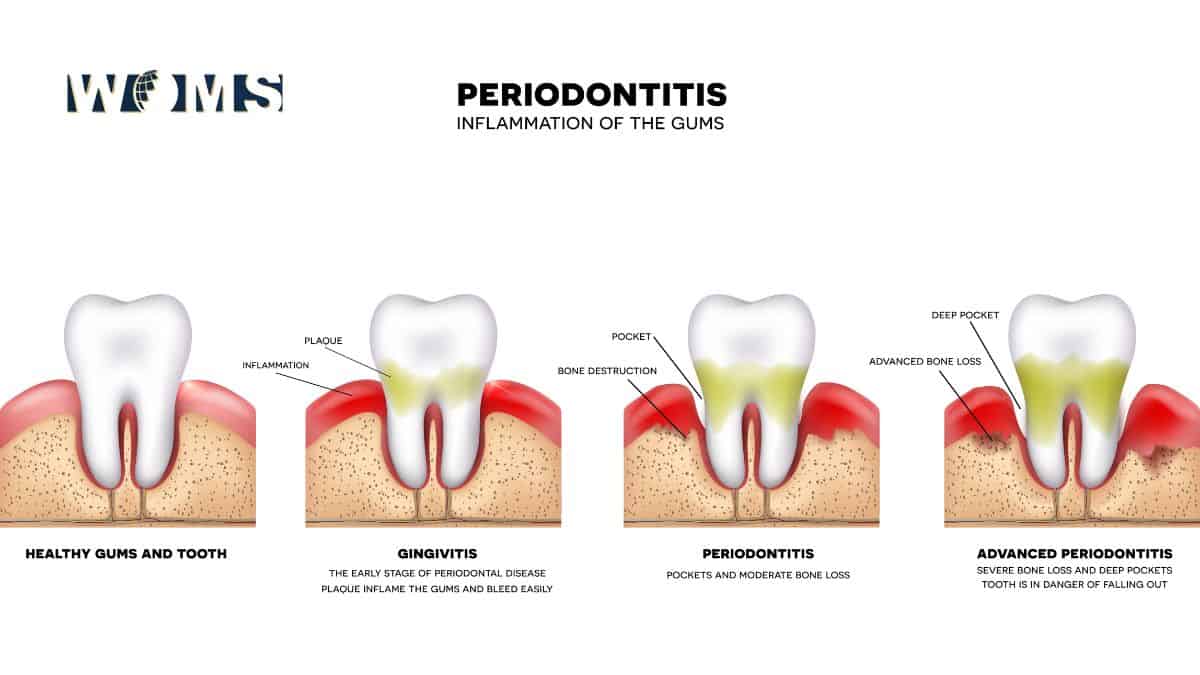 Periodontal disease (also called periodontitis or advanced gum disease) is the biggest cause of tooth loss in adults. But the good news is that if you reach the point of tooth loss due to periodontitis, all is not lost. There are certain treatment options available to help you restore your smile and your oral health.
In this article, we take a look at what happens when you reach tooth loss or terminal dentition due to periodontal disease and the possible treatment options after this stage.
What is periodontal disease?
Periodontal disease or periodontitis is the more advanced, destructive and irreversible type of gum disease. There are four stages of periodontal disease:
Stage 1 – Initial: This is where gingivitis (the treatable form of gum disease) has been left untreated and the inflammation of the gums begins to destroy the periodontal ligaments that join the tooth roots to the socket. The damage is only slight at this stage.

Stage 2 – Moderate: Without treatment, initial periodontitis will progress into moderate periodontitis. The damage to the periodontal ligaments is more obvious at this stage.

Stage 3 – Severe with potential for tooth loss: Once periodontal disease reaches this stage, the damage is severe and some teeth may not be able to be saved as they do not have enough gum or bone structures to support them.

Stage 4 – Severe with potential for loss of all teeth: At this stage, patients may have already lost a number of teeth and their remaining teeth will often be loose or at risk of loss. People at this stage often reach a point of terminal dentition that is, where all the teeth are so badly damaged that they must be removed and replaced.
What happens when you reach terminal dentition from periodontal disease?
Terminal dentition is where a patient's natural teeth are at or nearing the end of their lifespan. The patient may have already lost all or most of their natural teeth, and any remaining teeth may pose a risk to their overall health.
If left untreated, the advanced periodontal disease that has caused the terminal dentition can result in systemic inflammation in the body. This can then put the patient at risk of a whole range of serious health problems, such as autoimmune diseases, diabetes, stroke and heart attack.
Only a dentist will be able to determine whether you have reached terminal dentition. But some of the signs and symptoms can include:
Pain when chewing
Severe gum recession
Persistent bad breath
Loose, shifting or splaying teeth
Discoloured, broken and decaying teeth
Continued tooth loss despite gum disease treatment or changes in oral hygiene
Once you reach terminal dentition, it is crucial that you see a dental professional for assessment and treatment. They will be able to determine the best way forward to remove any remaining teeth, restore your oral health and discuss tooth replacement options.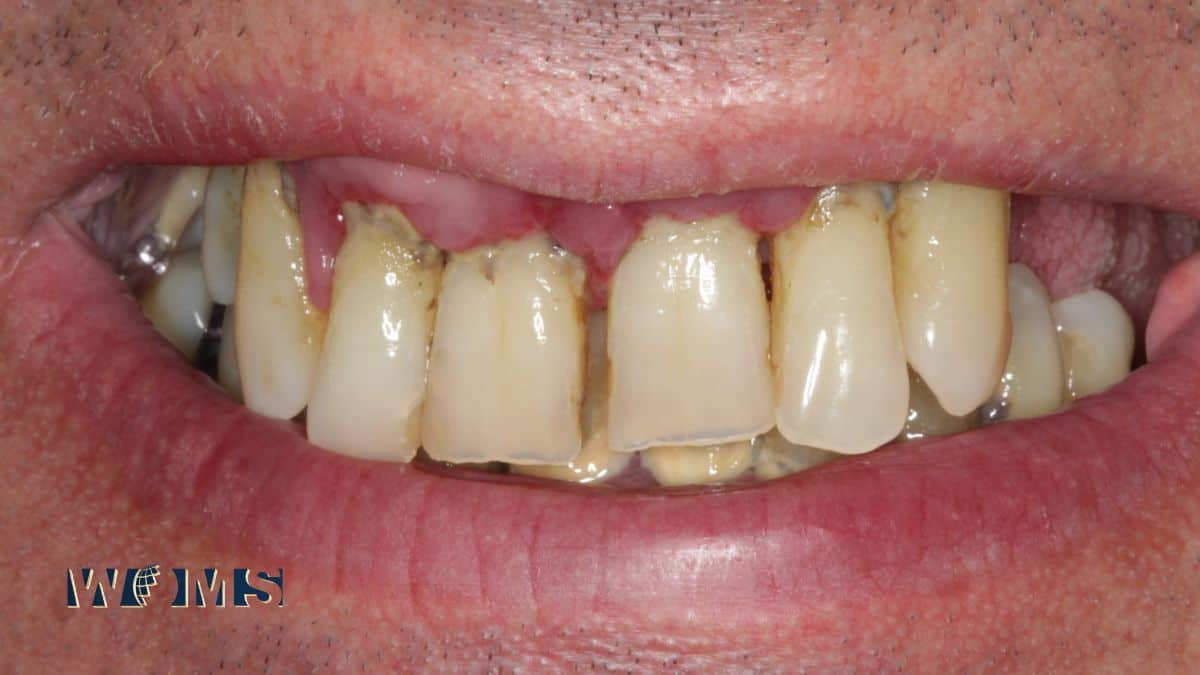 What are the treatment options for severe periodontal disease?
While advanced or severe periodontal disease cannot be reversed, there are treatment options available to help stabilize your gum health and replace your lost teeth.
The treatment options available to you will depend on what stage your periodontal disease is at. Almost all periodontal disease treatment will begin with debridement a process where large amounts of plaque and calculus are removed in an attempt to get the teeth and gums clean again.
But if you've reached Stage 3 or Stage 4 periodontal disease, it can be near impossible to treat with non-surgical debridement alone and more advanced surgical treatment options may be required.
Periodontal surgery
Periodontal surgery enables your dentist to access the roots of the teeth that need debridement and give your teeth and gums a more thorough clean. This treatment can also help to reduce the very deep pockets that have formed between the teeth and gums, making it easier to keep plaque from forming on the teeth and stabilize your gum health over the long term.
Periodontal regenerative surgery
This type of surgery is used to help regenerate the ligaments and bone that have been lost due to periodontal disease. It may include a combination of different procedures and techniques such as bone grafting and enamel matrix derivative.
Tooth replacement with dental implants
Fortunately, dental implants are a great tooth replacement option for those experiencing tooth loss from periodontal disease. Dental implants are designed to look and function just like natural teeth, providing a more permanent and secure solution than traditional dentures.
Dental implants are surgically embedded into the jaw bone and capped with an implant tooth, dental crown or tooth bridge, depending on the number of teeth being replaced. Often, severe periodontal disease leads to the loss of the bone and gum structures that are required to support the dental implants. In these cases, bone grafting must be used to help rebuild these structures and provide a strong foundation for the dental implant.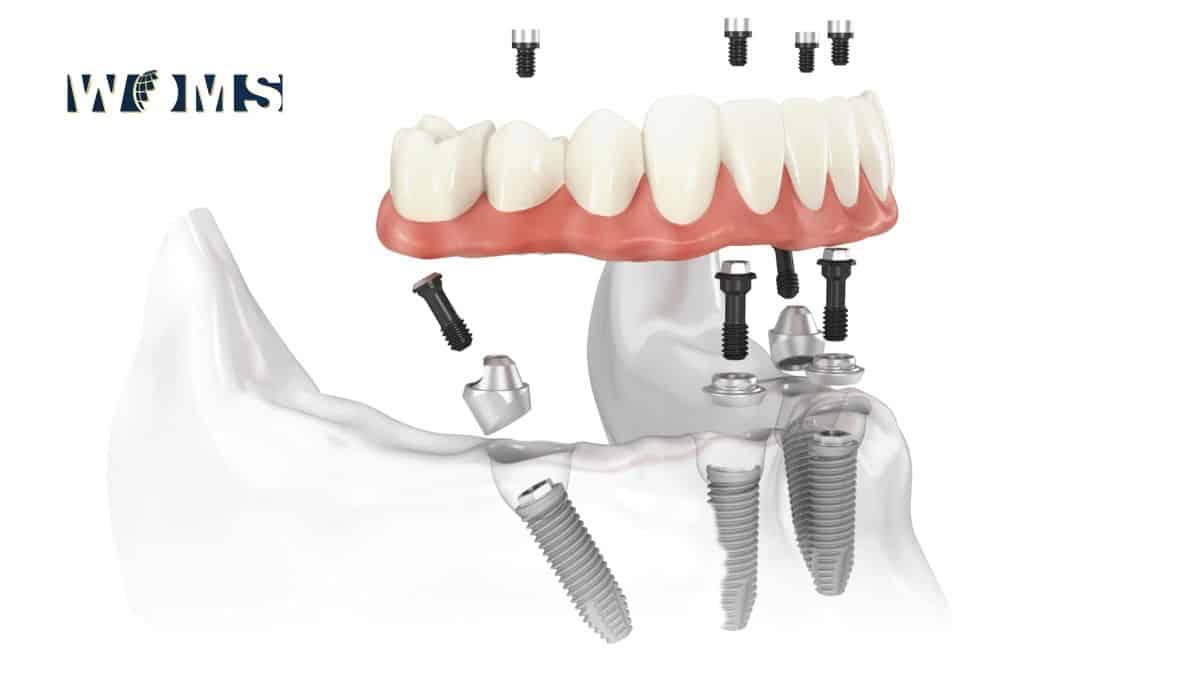 Full mouth tooth replacement with All-on-4 dental implants
Once a patient reaches terminal dentition and has lost all or most of their teeth, this doesn't mean their smile is lost forever. The All-on-4 procedure offers a highly effective solution for those who have lost or are about to lose all of their teeth in their upper or lower jaw due to periodontal disease. This tooth replacement option involves the placement of at least four dental implants into the jaw, which hold a tooth bridge of up to 12 teeth in place.
As mentioned above, those experiencing tooth loss or terminal dentition due to periodontal disease are also likely to suffer with jaw bone loss. However, the All-on-4 uses a special implant placement technique which can reduce the need for bone grafting, even when a patient has experienced bone loss.
It's important to note that dental implants and All-on-4 implants are not immune from gum disease. If you do not receive appropriate treatment to free the gums of the disease before getting dental implants, it can be very complex and costly to treat. You could also be at risk of developing peri-implantitis, which is another type of gum disease that occurs when the bacteria build-up affects the gum tissues and bone around a dental implant.
This is why it's crucial that you work with an experienced dental implant dentist who has helped patients to successfully restore their smiles after tooth loss from periodontal disease.