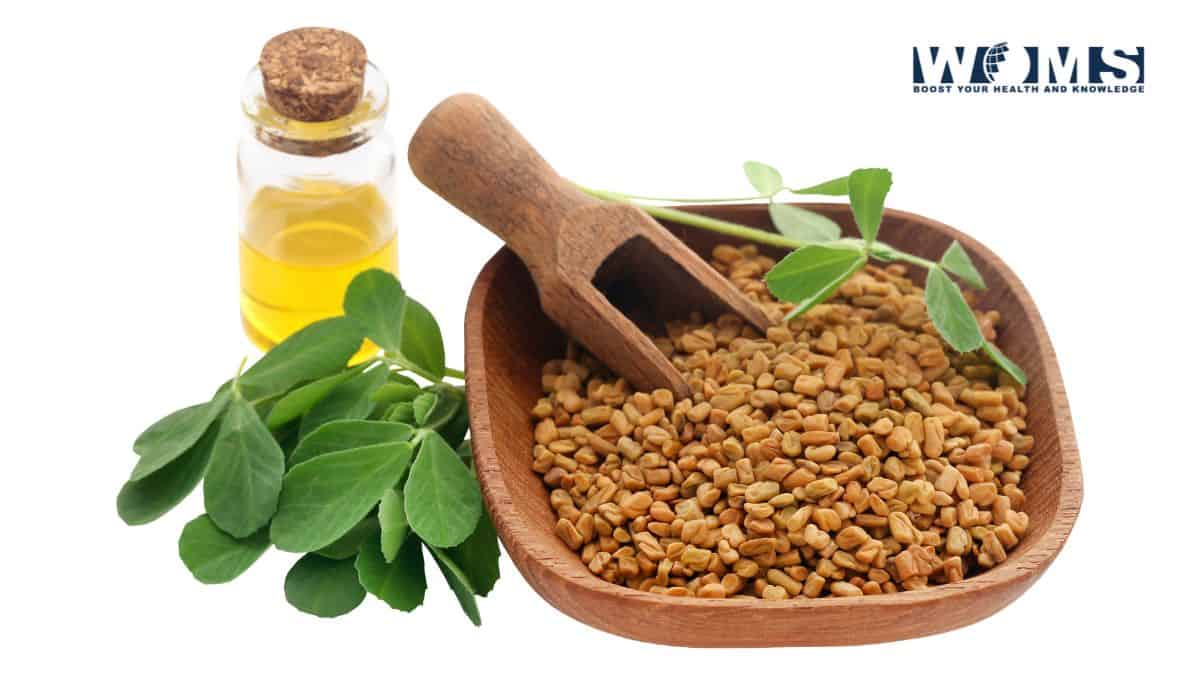 Fenugreek oil is an extract of fenugreek seeds that belong to the herb family. Fenugreek is such a beneficial herb that people use its leaves, roots, or twigs for different purposes. Fenugreek oil offers a variety of nutritional and health benefits. There is a long verified list of health benefits of fenugreek oil to appreciate its use to boost immunity and health.
Fenugreek oil is extracted from the fenugreek seeds, and obtained through the herb. Every herb offers 10 to 20 grains. These seeds have a pretty strong fragrance with a bitter taste. These seeds undergo multiple processes to drain fenugreek oil. Fenugreek oil offers a variety of health benefits, including anti-viral properties and several other features.
This article summarizes all the basic and general aspects related to the health benefits of fenugreek oil. In addition, it also covers a detailed review of its interaction with other substances. Let us take a deep look at the health benefits of fenugreek oil to help you understand them in detail.
What are the basic components of fenugreek oil?
Fenugreek oil is extracted from fenugreek seeds, containing various substances to provide health benefits. Fenugreek seeds include a high content of various nutrients such as proteins, carbohydrates, potassium, calcium, magnesium, iron, sodium, zinc, and phosphorus. In addition, fenugreek seeds also contain a variety of vitamins to boost the immune system against various diseases.
Fenugreek seeds also contain a variable quantity of phytic acid, trigonelline, and saponins. These ingredients work as antioxidants to fight against antigens and cancerous cells.
Saponins – provide protection against tumors, lower cholesterol levels, and maintain sugar levels, and blood fats. Moreover, it reduces the formation of blood clots due to high cholesterol levels and prevents kidney stones.
Trigonelline – prevention against diabetes. In addition, it offers antiviral, antibacterial, hypoglycemic, and anticancer effects.
Fenugreek seeds also contain a rich quantity of polyunsaturated fats, about 84%. This ingredient boosts the formation of cells and blood vessels after any traumatic injury.
Antioxidants include apigenin, luteolin, coumaric acid, and caffeic acid to cleanse the body of toxins.
Hydroxy isoleucine is also present in fenugreek seeds to offer insulin-stimulating effects.
Diosgenin is a substance that belongs to phytoestrogens to maintain the normal levels of hormones in the body.
What are the common health benefits of fenugreek oil?
Fenugreek oil is full of health benefits for human beings. There are several ingredients in fenugreek that are very beneficial for human health.
Of all the reported health benefits of fenugreek oil, only a few have been substantially backed by scientific evidence. Let us have a look at the detailed health benefits of fenugreek oil to provide a thorough review of its benefits.
1. Decreases blood glucose level
Fenugreek oil offers great health benefits to boost body maintenance. Its seed and oil both are used for the regulation of blood glucose levels. The control of blood glucose levels helps to prevent diabetes. Its hypoglycemic effect is mainly due to its ingredient hydroxy isoleucine and amino acid. These ingredients boost the stimulation of insulin by the pancreatic cells.
In addition, these molecules decrease the activity of alpha-amylase enzymes and sucrose enzymes. These enzymes are used to convert sugar into glucose. Therefore, preventing their function, fenugreek oil helps to lower blood glucose levels. Fenugreek oil performs these functions mainly to maintain control over diabetes or blood glucose levels. These are as follows:
Fenugreek oil decreases the intestinal absorption of glucose
It helps to delay gastric emptying.
Fenugreek oil increases the sensitivity of insulin and its mode of action.
Fenugreek oil decreases the concentration of protein that binds lipids.
For all these reasons, fenugreek oil and seeds are beneficial for patients falling in the pre-diabetic stage and diabetes. So we can conclude that the first and main important health benefits of fenugreek oil or seed is to lower blood sugar.
2. Weight loss
Fenugreek oil also plays a key role for people who want to lose weight. Fenugreek oil reduces the appetite level to decrease your daily food demand. In this way, it lowers daily food consumption and ultimately helps to lower body weight.
So the second health benefits of fenugreek oil are it helps in weight loss.
3. Improve breast milk flow and production
Breast milk is the main source of nutrition for newborns. Some mothers face difficulty regarding the production and flow of breast milk. Whereas, a sufficient quantity of breastmilk is necessary to deliver the necessary nutrients to the newborns. Fenugreek oil also serves the mother to enhance breast milk production and easy flow. There are various types of research that suggest that fenugreek seeds or oil are beneficial to stimulate breast milk and weight gain in newborns.
4. Reduce cholesterol levels
Another health benefits of fenugreek oil or see is to reduce the cholesterol level.
Different studies also suggest that fenugreek seeds also contain ingredients that lower bad cholesterol levels in the body. In this way, it also helps to prevent atherosclerosis, the deposition of fats in the arteries.
5. Role in the respiratory system:
Fenugreek seeds or oils are best used in various remedies to treat common colds and various lung disorders. Fenugreek offers a strong expectorant effect. It helps to relieve congestion by expelling phlegm. This herb, also known as phlegm mover, also has an anti-inflammatory role to relieve sinusitis, bronchitis, and pneumonia. Moreover, it also improves the quality of life for the lungs.
6. Men's Health
Fenugreek is an herb serving both men and women equally. It helps men suffering from low testosterone levels. In addition, fenugreek contains an ingredient named furostanol saponins. This ingredient increases testosterone production and indirectly libido. Moreover, you can use fenugreek in the form of seeds for easy intake. Moreover, fenugreek also contains molecules that boost the quality of the seminal fluid and increase sex drive.
7. Women's health
Fenugreek oil is also helpful to treat various problems in females. Fenugreek contains the ingredient diosgenin, similar to the female sex hormone estrogen. This ingredient serves as a natural source for those females, who lack estrogen. In addition, it also offers therapeutic effects against the disturbed menstrual cycle and painful menstruation. Moreover, fenugreek oil maintains a balance between various hormones, deals with infertility, and improves the chances of pregnancy.
Fenugreek oil is indicated in females with early menopause. In high quantities, fenugreek oil can induce menstruation even during the initial phase of menopause. So we can also conclude that there are many health benefits of fenugreek oil or seed to women's health.
8. Healthy skin and hair
Fenugreek oil is a strong anti-inflammatory agent due to the presence of antioxidants. So, being an anti-inflammatory agent, it helps to treat acne and dermatitis. It cleanses the skin and also contains disinfectant features. Fenugreek oil is used topically for different kinds of skin allergies and rashes. Moreover, it enhances the healing of the skin and also smoothens the skin.
Fenugreek oil is also used to inhibit hair fall and accelerate hair growth. It can be added to different hair serums and shampoos to prevent hair loss. Fenugreek oil, containing lecithin, provides extra shine and elasticity to the hair.
9. Treatment of gastrointestinal tract diseases
Fenugreek seeds are helpful to cleanse the GIT of toxins by coating the walls of internal walls of various organs with a protective mucus layer. It also has a healing effect on gastric and duodenal ulcers. In addition, fenugreek seeds also deal with constipation and colic problems. Moreover, it also helps to relieve the pain of unknown etiology in the abdomen. Fenugreek seeds are also helpful for the removal of worms from the body.
10. Breast enlargement
Fenugreek oil is also famous for breast enlargement issues. It contains natural ingredients, helping to enlarge the breasts and make them firm. Fenugreek oil contains antioxidants and hormone-affecting molecules to enhance breast growth. Moreover, fenugreek oil is directly applied to the breast to massage them. The creams and oils used for breast enlargement contain fenugreek as their ingredient.
11. Effect on malignant cells:
Fenugreek seeds contain saponins that inhibit the further multiplication of cancerous cells. In addition, it causes the programmed death or apoptosis of these malignant cells. Moreover, fenugreek oil or seeds decreases the chance of colon cancer, and prevention of leukemia, breast cancer, bone tumorous cell division, and prostate malignant lesions. Furthermore, fenugreek oil enhances the sensitivity of T lymphocytes to radiotherapy and increases apoptosis.
12. Anti-aging effects
At a young age, our body produces multiple hormones to maintain a healthy shine on our skin. With passing age, these hormones continue to slow down exhibiting multiple effects on the skin. Diosgenin present in fenugreek increases DNA synthesis in the cells to boost the metabolism and cell cycle of fibroblasts. In this way, the age-associated atrophy of the skin cells is decreased with increased density and elasticity of the skin cells.
13. Effect on kidneys
Fenugreek seeds are a strong cleansing agent for both the GIT and kidneys. It helps to excrete toxins out of the body. Fenugreek with dates serves as a strong diuretic to crush the bladder and kidney stones.
These are the 11 health benefits of fenugreek oil or seeds which is very important for immune health.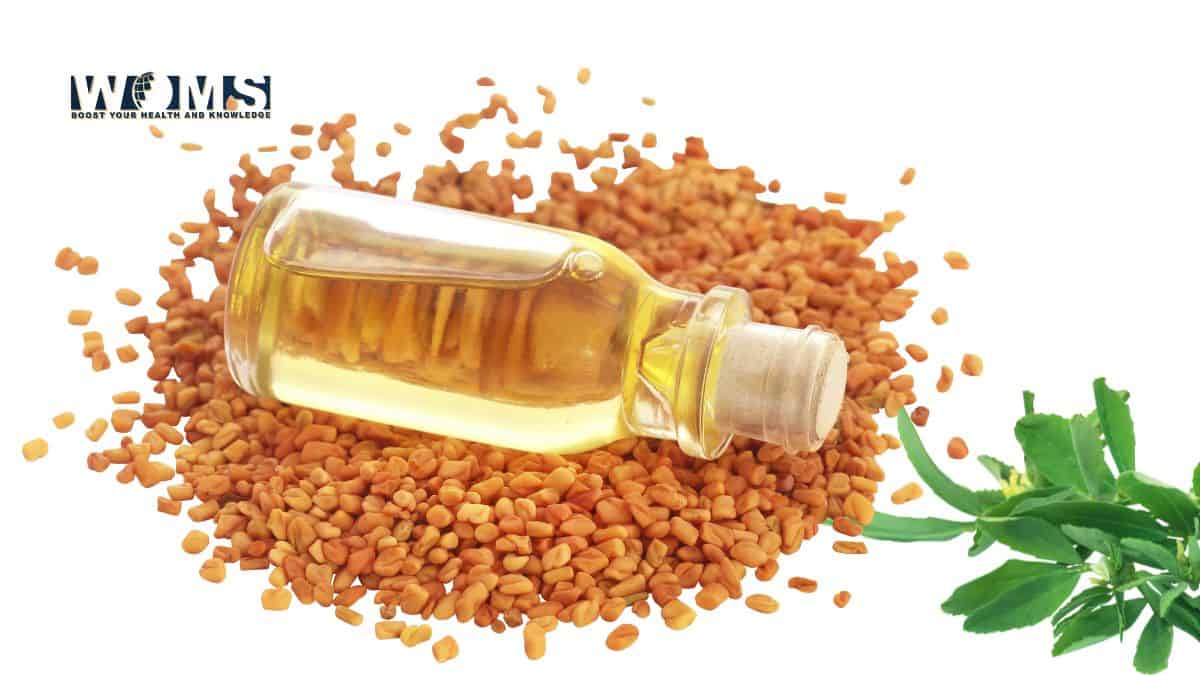 What are the side effects of fenugreek oil?
Though fenugreek oil possesses multiple benefits, you must use caution while using fenugreek oil. Some people may be allergic to fenugreek oil. Therefore, applying fenugreek oil directly to the skin may induce allergic reactions in different persons. For this reason, people must be aware of the allergic response. In the case of diabetic patients, there must be proper knowledge and awareness regarding the use of fenugreek oil.
In some people, fenugreek oil may cause breathing problems. Moreover, in combination with other drugs, it can also cause different types of side effects.
Moreover, women during pregnancy must avoid the use of fenugreek oil. It contains such ingredients that can cause birth anomalies. There are some common side effects associated with fenugreek oil. These are as follows:
Stomach upset
Diarrhea
Maple-like odor in sweat, urine, or breast milk
Headaches
Dizziness
How fenugreek oil interacts with other drugs?
Fenugreek oil may interact with other drugs. Fenugreek seeds contain such ingredients that can interact with other medications.
Fenugreek lowers blood glucose levels. Taking fenugreek along with hypoglycemic medications may further lower the glucose level to a drastic level. Therefore, you should monitor your blood glucose levels carefully to assess your blood glucose level.
Fenugreek slows down the blood clotting process. Avoid taking fenugreek along with anticoagulants to prevent bleeding and bruising. Warfarin is a quite common anticoagulant to slow the blood clotting procedure. You must be careful regarding the use of fenugreek along with warfarin.
Fenugreek reduces the absorption rate of theophylline. Therefore, using fenugreek with theophylline may reduce the effects of theophylline due to decreased absorption.
Fenugreek also lowers blood pressure. Take precautions while using antihypertensive drugs with fenugreek.
Conclusion
The health benefits of fenugreek oil are beyond the range to cover. There are several problems that fenugreek oil can treat easily. In contrast to the health benefits of fenugreek oil, fenugreek oil may cause allergic reactions in some people. Therefore, people must know the ingredients of fenugreek oil. Every ingredient has its specific feature and sensitivity response. This is all about the health benefits of fenugreek oil or seed. Hope this article helped you in many ways to boost your health.
Frequently asked questions (FAQs)
Can we use fenugreek oil daily?
It is not necessary to use fenugreek oil daily. You can use fenugreek oil twice or thrice a week to deal with different problems. As it is sufficient to deal with your health problem.
Various studies have demonstrated the various health benefits of fenugreek oil so you can use it twice or thrice a week.
Which people should not use fenugreek oil?
People who are allergic should not use fenugreek oil. In addition, pregnant ladies and mothers who are breastfeeding their babies should avoid the use of fenugreek oil.