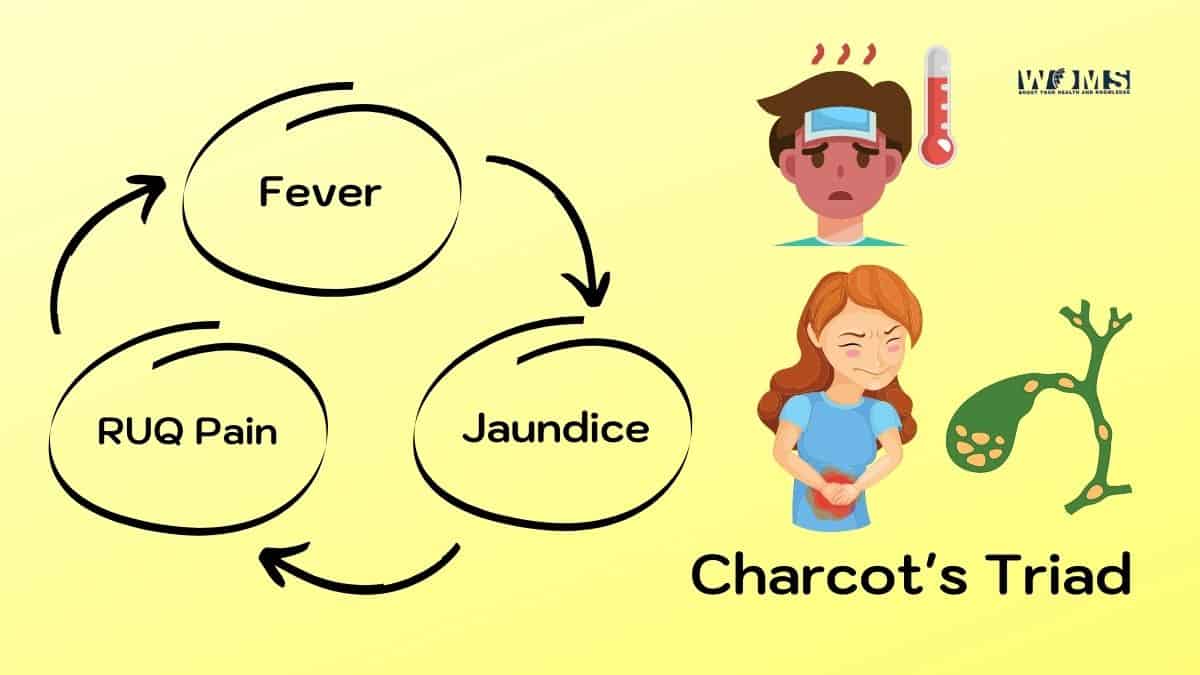 Charcot's triad represents the combination of upper right quadrant pain, fever, and jaundice due to biliary obstruction with superimposed infection. This condition may rapidly develop into Reynold's pentad, which includes hypotension and confusion with this triad.
History of Charcot's triad
In 1877, Charcot explained cholangitis as a representation of Charcot's. This triad includes right upper quadrant pain with fever and jaundice. These symptoms are a classic representation of cholangitis. Moreover, this condition may develop rapidly into Reynold's pentad that also involves the central nervous system. This typical condition exhibits mental status changes and sepsis of the biliary obstruction.
This triad typically describes the diagnosis of acute cholangitis. Let us have a further detailed look at the other aspects of Charcot's cholangitis triad.
Etiology
This Charcot's triad represents biliary obstruction with superimposed infection leading towards cholangitis and bacteremia. Moreover, this manifestation represents acute infection with multiple complications.
Diagnostic criterion:
The diagnostic criterion for Charcot's triad follows three main findings that are as follows:
Systemic inflammation represents a fever of more than 39°C with shaking chills. Moreover, there is laboratory evidence for increased white blood cell count.
Cholestasis is a representation of increased bilirubin level known as jaundice. There may be abnormal liver function tests or liver biochemistry.
Imaging representation highlights biliary dilatation of more than 7mm or an incidence of CBCD stones.
Medical history
A patient's medical details and history plays a significant role in building a strong diagnosis. In addition, information related to the symptoms helps the clinician to understand the behavior of the disease. For example, the history of the following things may suggest the cholangitis associated with Charcot's cholangitis.
Gallbladder or CBD stones
Cholecystectomy
Endoscopic intervention
Cholangitis history
HIV or AIDS history
Physical examination
Patients, suffering from Charcot's triad symptoms most commonly present in septic shock conditions without any infection source. These patients reveal the below findings on physical examination.
Pyrexia
Right upper quadrant pain
Jaundice
Mental confusion
Hypotension
Tachycardia
Mild hepatomegaly
Charcot's triad with age
Patients of more than 80 years of age or elder suffering from cholangitis do not follow Charcot's cholangitis criterion. They most commonly present features of Reynold's pentad as compared to younger age peoples. The elder age group describes the symptoms of hypotension, abdominal pain, malaise, or fever.
Laboratory studies evaluation
For further evaluation of the disease, we can also go for laboratory studies to understand the status of the patient's conditions. These are the laboratory findings consistent with this triad.
Increased white blood cells indicate an active infection. Patients, who presented with cholangitis and Charcot's triad symptoms, had a white blood cell count of more than 10,000/mL. Patients presenting with septic shock may have leukopenic conditions.
Calcium level monitored to exclude the possibility of pancreatitis (leads to hypocalcemia and elevated lipase levels)
Increased bilirubin and alkaline phosphatase level when liver function tests performed
Aminotransferases mildly elevated
Increased C-reactive protein and erythrocyte sedimentation rate
Blood cultures of these patients indicate polymicrobial infection.
Imaging techniques:
Following mentioned techniques are the possible imaging procedures to visualize the details of the structures. Moreover, imaging studies are also helpful for better diagnosis and treatment plans.
Ultrasonography
Endoscopic retrograde cholangiopancreatography (ERCP)
Computed tomography scan
Magnetic resonance cholangiopancreatography (MRCP)
What are the other medical disorders considered in the patients suffering from Charcot's triad?
There are several medical conditions that must be considered for the patient suffering from the Charcot's triad sign. In addition, these diseases can occur in these patients to further immuno-compromise the patient. Let us have a look at the details of these superimposed disorders.
Right colony diverticulitis
Cirrhosis
Pyelonephritis
Liver failure
Perforated peptic ulcer
An acute form of appendicitis
Massive liver abscess
These diseases are also found in the patients suffering from this triad. A better clinician must review all these diseases for an improved diagnosis and better prognosis.
Which medical conditions mimic the same signs and symptoms?
There are many diseases that follow the same pattern of symptoms as Charcot's cholangitis. These conditions also come under the heading of differential diagnosis for Charcot's-associated diseases. Some of these diseases are as follows:
Cholecystitis and biliary colic
Diverticulitis
Pancreatitis
Septic shock
Recurrent bacterial cholangitis
Biliary tree tumors
Mirizzi syndrome
Hepatitis
Mesenteric imaging for ischemia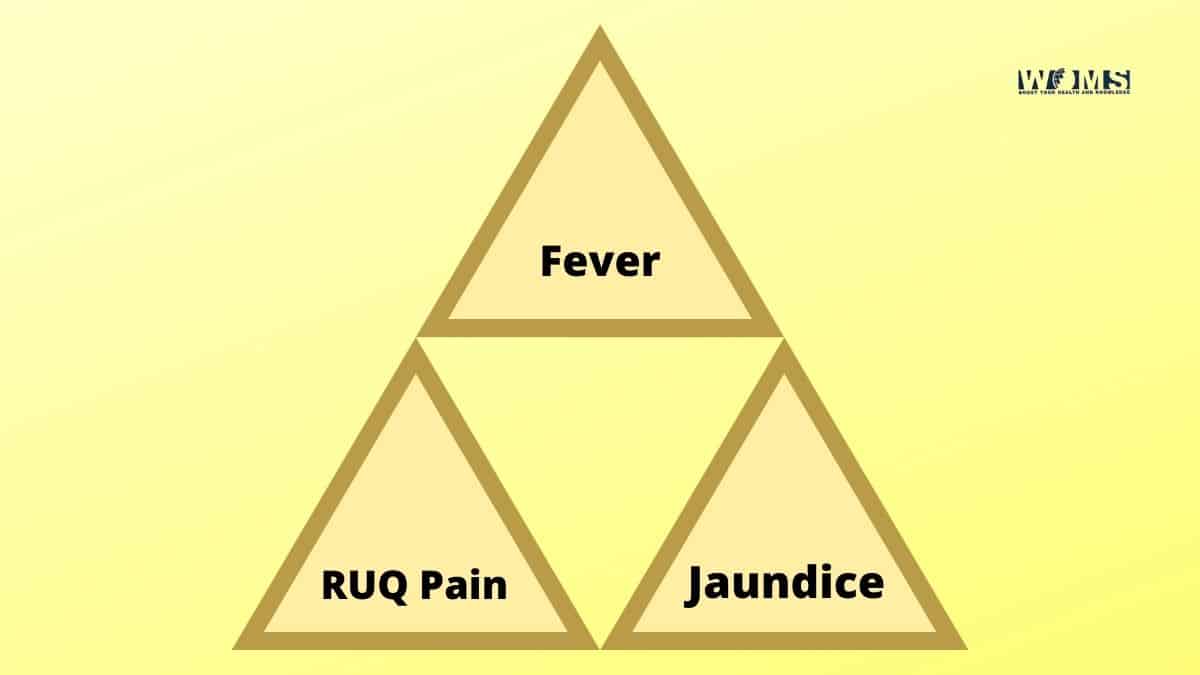 Treatment of Charcot's triad
Charcot's cholangitis with an indication of cholangitis requires aggressive management with an early diagnosis. In addition, a little delay in the diagnosis can lead to several fatal complications leading to a poor prognosis. Moreover, there are two types of treatment approaches for the management of this condition.
Medicinal treatment
Surgical treatment
Let us have a detailed view of the management plan for this condition.
Pharmacological management of Charcot's triad
Fluid resuscitation
Broad-spectrum gram-negative antibiotics coverage
Ceftriaxone (1-2 grams once per day)
Levofloxacin (500mg once per day)
Ampicillin-sulbactam (1.5-3 grams after every six hours)
Piperacillin-tazobactam (3.3 gram after every six hours)
Surgical management of Charcot's triad
Surgery plans are important for critical and emergency patients. This type of treatment plan is for the acute exacerbations of the disease. Moreover, surgical management requires an extensive approach to treat this condition.
Early biliary decompression
For an acutely ill patient, there is a need for initial decompression of a common bile duct filled with pus as a first-line treatment. This initial biliary decompression follows definitive endoscopy or surgical management.
There are also other treatment options in the form of endoscopy, percutaneous transhepatic drainage, and surgery.
FAQs
What does Charcot's triad indicate?
Charcot's triad indicates active infection of the main bile duct in the liver. In addition, Charcot's triad is also consistent with acute obstructive cholangitis, also known as Charcot's cholangitis triad.
What is the common complication of Charcot's triad?
The most common complication of Charcot's cholangitis triad is Reynold's pentad which also includes mental changes, hypotension with Charcot's triad.
What is Charcot's neurologic triad?
Charcot's neurologic triad represents association with multiple sclerosis. In addition, it also includes intentional seizures, nystagmus, and scanning speech.
What are the diseases associated with Charcot's triad?
Charcot's triad increases the incidence of cholangitis or an infection of the main bile duct. These are the common disorders associated with Charcot's cholangitis triad.