Latest News
A speechless dream withstanding an example
Born without limbs, Rahma's family use a plastic bowl to transport her around the village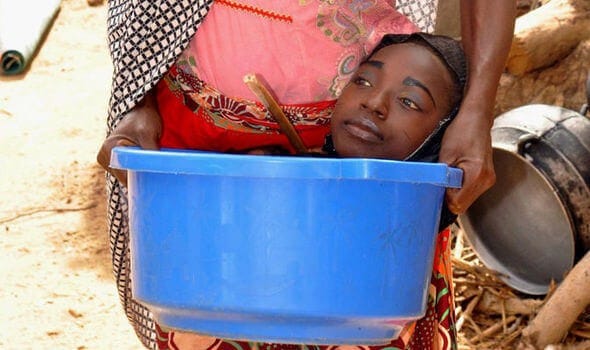 Rahma Haruna- A 19years old pretty bravest girl of today's 24/7 rushing modernized world. A girl who is pretty happy and unbeatable every time despite the misery that her arms and legs remaining underdeveloped. Still happy despite her constant pain and to be carried in a plastic bag wrapped around.
The girl from Kano, Nigeria, was born a healthy baby. But during her growing period, her growth was caught to a full stop when she was only 6 month. According to her life i.e mother, "all the misery had started when she was just six months old, while she was learning to sit for the first time. All it happened in such a way that she couldn't learn even to crawl.
She started with a fever, then the pain striking to the stomach, then to limbs making it useless at that short of time.
Rahma's family does their best to comfort her and carries around the village in a plastic bowl. She is particularly closer to her 10years old brother Fahad, who helps her whatever in need.
The exact cause for Rahma's condition is yet unknown though her family is trying hard to secure a diagnosis. Her father Hussaini says "I had been searching for the cure almost for last 15 years of time. I do farm and go to the market and many other things in order to make money to pay for her bills. I sold almost everything which was in my passion for her. Only God has the exact record of what I had spent."
The explanations for Rahma's condition is yet a puzzle for medical science. We wish for her well being and to be caught this condition by the specialist.
Rahma recently got a gift where she was donated for a wheelchair.
Despite her daily challenges Rahma heads towards her future and dreams full of hope.
She thanks God for everything and now wants to start a business. A grocery store where people can buy whatever they want.