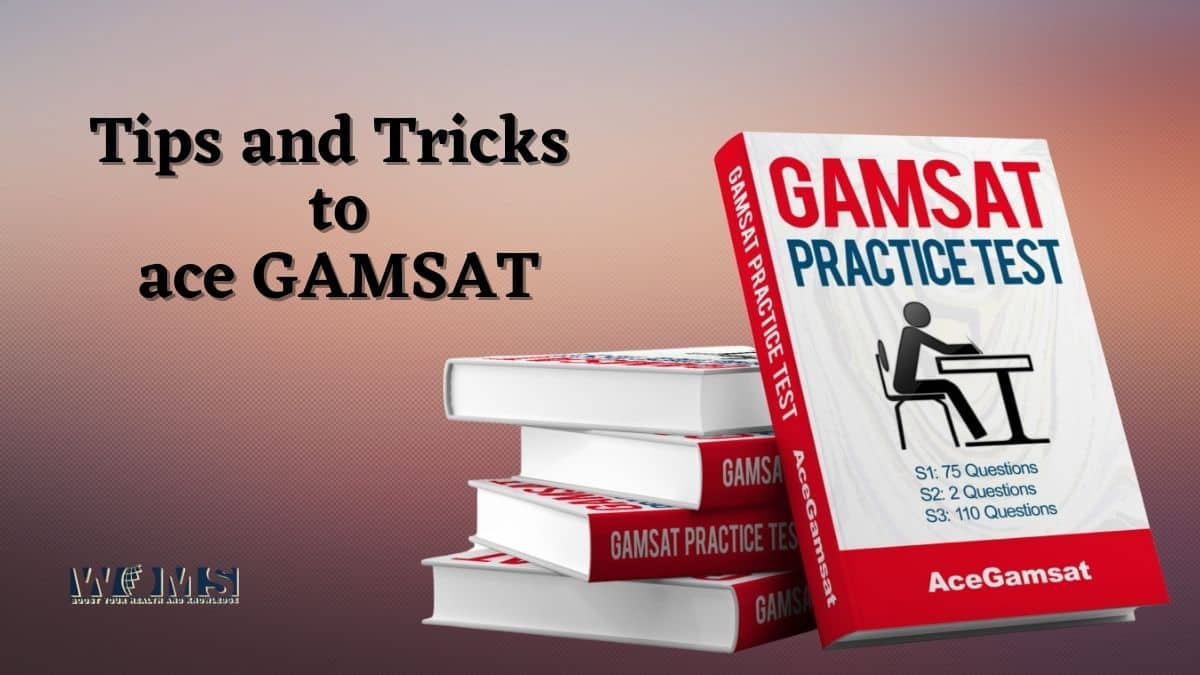 GAMSAT can be a tricky exam. Preparing for the GAMSAT Section 1, 2, and 3 can be a stressful and challenging journey. Moreover, it can get overwhelming if you try to learn it all and follow all tips and tricks you find on the internet, there are simply too many! But there is no need to get frightened, as we've compiled eight solid tips and tricks on how to ace your GAMSAT without losing your head from stress and worrying. So, without further ado, let's get to know a bit about the GAMSAT, shall we?
What is GAMSAT?
The GAMSAT (formerly known as Graduate Australian Medical School Admissions Test) is now known as Graduate Medical School Admissions Test. It is a selection method that assesses candidates who apply for studying dentistry, medicine, optometry, pharmacy, and veterinary science at Australian, Irish & British universities. The test center can be in any six countries: Singapore, UK, Australia, Ireland, USA, New Zealand.

A GAMSAT score is a key piece of criteria for applying to different universities for their medical, optometry, pharmacy, or veterinary programs, and is designed to rank you compared to other students. If your GAMSAT scores are sufficient, universities will invite you to the next step of interviews. If you ace these interviews, you can get into any of the universities you have applied to.
Tips and Tricks to Ace GAMSAT
ACER booklet
When you're planning and preparing to sit your GAMSAT, an essential place to start is with ACER themselves, the body that coordinates and runs the GAMSAT exam. Anyone sitting for the GAMSAT needs to go through ACER's information booklet with a high level of attention to detail. It's an official guide for your GAMSAT and has a lot of information to help you prepare for the test and give you an idea of what to expect.
Plan your resources
Tip 2 kind-of ties in with tip 1. The ACER booklet is a great resource that will fit right into your study plan. The GAMSAT tests a wide variety of skills and knowledge areas. So, you need to plan your study schedule and study resources accordingly. There are also various GAMSAT materials and resources available online that might help you prepare.
Reading skills
The GAMSAT tests a variety of knowledge. For the 1st section, you need to be able to interpret various texts with a range of cultural and social contexts. Along with that, you also need to read different types of things to broaden your perspective as the exam will often present you with different types of media, from fiction excerpts to political cartoons. Reading skills will also help with your written expression for the second section.
Practice makes perfect
It is essential that you practice for all of the GAMSAT components. You need to practice for MCQs and start writing essays. Doing practice questions is inherently better than mugging up information for every component as the practice questions will force you to test your skills in the exam properly.
Time management
Since you're consuming a lot of knowledge in a limited amount of time, plan your time accordingly. Set aside time to study, arrange practice tests, and check for your strengths and weaknesses. If you think you need a tutor, get one. It's not embarrassing to ask for help when you need it.
Divide and Conquer
Since the GAMSAT is divided into multiple sections, you need to divide it according to your convenience and plan your study time. Tackle one section at a time, as this will optimize your learning process, and you will understand the concepts better.
Maintain a positive attitude
GAMSAT can be a lot of pressure, but you need to maintain a positive attitude in these challenging times. You should be confident, not overconfident, and you need to take your GAMSAT seriously, without stressing or overthinking about the results. You can try to minimize your anxiety by taking practice tests in the way organized by GAMSAT. This will prepare you for the actual situation. Equally important is maintaining a balanced study schedule and leaving time for other things so you don't burn out.
Have realistic expectations
You can try your best when practicing for your GAMSAT, and you might want to achieve that perfect score. But it might be time to accept that you, just like everyone else, have your limitations and capacities. Your GAMSAT score might not be "perfect," but you should accept it and realize that it is what it is. Have realistic expectations, as trying to achieve perfect scores in a Test given by thousands of people is not a good thing, and often means you fail to consider the other important parts of your application, like your GPA score.
Final Thoughts
So we have come to the end of this blog. We hope this blog relieves anyone who's going to give the GAMSAT from their stress and anxiety. And we hope these tips and tricks help you in your exam preparation.