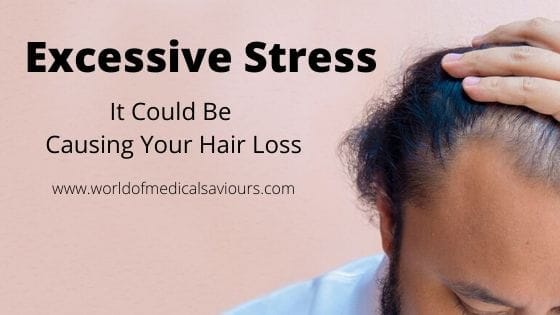 High-level stress can cause hair loss and for some people, the effects of stress on hair health are more serious than you think.
Clinically known as alopecia, hair loss is common for both men and women. But some factors can intensify shedding and disrupt hair growth, including stress. To make things worse, seeing fistfuls of hair caught in between your fingers while in the shower can be an emotionally taxing experience.
Here are several ways to help you fight massive hair loss triggered by stress so you can protect your "crowning glory."
Manage stress
The first thing that you need to do is to arrest the major cause of hair fall and, in this case, it's stress. While you can't completely avoid stress, you can minimize its effects on your body by managing it. It sounds easy but figuring out the right stress-management technique can be difficult for some people.
Exercise is one popular way to combat stress. When you exercise, your body releases "happy" hormones called endorphins, which reduces your perception of pain.
Another way to manage stress is by pursuing your hobbies as it can keep your mind away from stressful thoughts. Enrolling in yoga or tai chi classes can also combat stress as these will teach you some meditation and breathing exercises to help you find your Zen.
Eat a balanced diet
A balanced diet is crucial if you want to fight stress-induced shedding as it will give your body all the nutrients it needs to encourage hair growth. While supplements can give you some of the essential nutrients, getting enough of them in your diet is still the best route for you.
Make sure you eat foods rich in vitamin C to promote the production of collagen, which your body needs to build hair proteins. Beans and nuts are packed with vitamin B that is vital for hair growth while vitamin E can nourish your scalp. Also, stay hydrated by drinking plenty of water.
Get enough rest
Getting enough sleep after a tiring day is one of the best ways to fight stress and, in turn, avoid receding hairline and bald spots. Resting means you are allowing your body to recover from stress, helping promote the cycle of hair growth.
Invest in treatments
If hair fall due to stress becomes noticeable, then it is time for you to consult a dermatologist, who may prescribe you with topical treatments that can stimulate hair growth.
One of the popular products used to treat hair loss is topical minoxidil, which you can apply to your scalp as directed by your doctor. Topical corticosteroids are also your hair's best friend at times like this.
Some also use products with malunggay for hair regrowth because this plant has vitamins and essential fatty acids that your hair needs.
If stress triggered your massive hair fall, avoiding stressful situations as much as you can is what you need to do. If you don't see improvements, consult a doctor to find out the best treatment for you.