Clinical Anatomy by Regions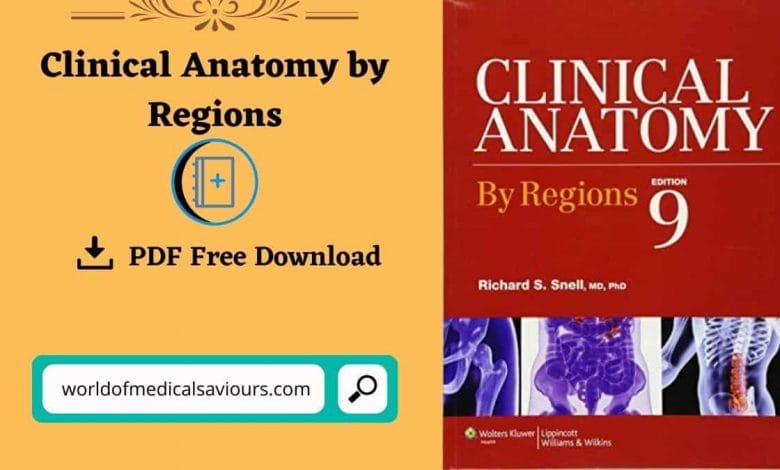 If you want to excel in anatomy subject without any hard work, this smarter version of the book is for you. Anatomy is a subject full of complex concepts and boring details. To deal with its complexity, Clinical anatomy by Regions is the solution to your problems. This book is best for its detailed and persistent organization. In addition, it also provides abundant illustrations with diagrams and clinical applications of these details.
Medical students suffer a lot of mental exhaustion while dealing with anatomy complex details. This book, Clinical anatomy by Regions, interestingly describes all essential details. Moreover, it also attracts the reader because of its high-quality artwork. Only text details may complicate the understanding level. This book provides context details with diagrammatic representation for improved learning and visual memory.
For the student purpose
This book is the best choice for medical, dental, allied health, and nursing students. In addition, it covers all important details necessary for any students related to the medical profession. In addition, this book guides medical students through the fundamental anatomy concepts, explaining details of every structure, and offering guidance related to their clinical perspective.
Richard r snell was a great lecturer and researcher of anatomy at George Washington University. He remained chairman of the department of anatomy at George Washington University. In addition, he was a member of the anatomical society of Great Britain and the American Association of anatomy. He wrote more than 11 classical anatomy books for medical students.
Hallmarks of clinical anatomy by regions
There are several important features of this book to clear your concept. These features will provide you a transparent version of the anatomy that will not hinder your understanding level.
Updated version
This book offers up-to-date information and follows the recent trends of anatomy information. In addition, images and details keep on updating from time to time. This feature makes this book a versatile option for medical students to learn anatomy.
Clinical description
This book correlates all-important clinical aspects of anatomy in the context. In addition, it also explains the clinical significance of various structures with image representation. This feature helps the students to enhance their clinical skills with this knowledge. In addition, it also engages the reader's attention by providing clinical aspects.
Changes delivered in the latest edition (9th edition) of clinical anatomy by regions:
Several changes were incorporated in the latest edition for the convenience of medical students. These changes will surely ease students to clear any problem regarding anatomy. These changes are as follows:
An ideal book for medical, dental, allied health, and nursing students to deal with complex anatomy concepts
Organized in a pattern that follows superficial surfaces to deep structures
Updated layout for a more focused context details
Colorful illustration of text in the form of diagram for better understanding and visual learning
Explains basic clinical anatomy concepts and then gross anatomy structures with their clinical significance
Chapter objectives at the start of every chapter to prepare students for their clinical patient encounter
Clinical notes available that help to integrate clinical details with context
Brief description of embryology to enhance the vision for the development of anatomy
Numerous clinical images integrated into the text to support the clinical details
Surface anatomy chapters available for the surface landmarks of important anatomy structures
Online eBook available with a vast collection of an interactive questions bank for the assessment of students
Other important features of clinical anatomy by regions
There are several other features of this book that will surely help to make your mind review this book. Let's go through these distinct features.
Diagrammatic illustration
A person attracts more towards the image representation. This book provides all the important details with colorful images. Not only this, but this book also covers the clinical images of the details present in the text. This feature helps medical students to understand the details in a much effective way.
eBook feature
This book is also available in eBook format. This feature provides access to the book details on any electronic media platform. In this way, it becomes easy to go through the book at any place. This eBook version also provides multiple interactive questions for the assessment of students and their evaluation.
Content details of clinical anatomy by regions
This book covers all details of the body structures ranging from superficial surfaces to deep gross structures. Most books are available in volumes depending on the region targeted in the book. But, this book provides complete anatomy details of all body structures. Let's go through the content details of this book.
The first chapter provides general anatomy details of various structures and systems. This chapter includes all the general information related to bones, joints, muscles, and ligaments.
Moving on, the next two chapters explain the gross anatomy of the thorax wall and cavity, various structures present in this region, blood and nerve supply, and lymph nodes present in that area. This portion covers all about the thorax region and structures present in this region.
The next two chapters cover all details of the peritoneal wall and cavity with their associated structures. The next chapters cover all the details of the pelvis, upper and lower extremities. It also explains the head and neck regions of the body with a thorough explanation of the vertebral column.
In this way, it covers all important structures of the body with a thorough explanation of their anatomical features. In addition, it also highlights the surface marking of different important structures.
| | |
| --- | --- |
| Book name: | Clinical anatomy by Regions |
| Author: | Richard R Snell |
| Edition: | 9th |
Ending words
This book is highly essential to clear the complex concepts of ambiguity. Besides this, it will surely resolve your ambiguities regarding anatomy. This book will not only help you to clear concepts but will assist you to excel in international exams. You may also get benefit from this book in a pdf format available anywhere.
---
Also Check: Kaplan Pathology PDF