Netter's Illustrated Human Pathology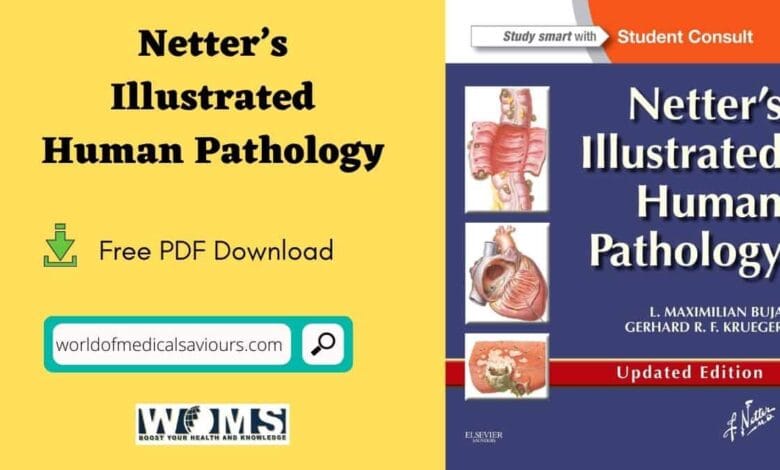 Pathology is a vast subject and constantly changing field which forms the base for understanding different diseases and health conditions. As undergraduates find it challenging to cover all the aspects, here Netter's Illustrated Human Pathology comes in to solve all our problems.
With the help of Netter's Illustrated Human Pathology, we gain a vast pool of knowledge about the structure and functional relationships as well as the pathological basis of human diseases.
Netter's Illustrated Human Pathology acts as a finishing touch to more detailed pathology presentations and textbooks, that includes the course syllabi. This atlas acts as a companion for studying microscopic and gross specimens in laboratory works, and it an excellent source of help to the medical students for last-minute revisions and even works well for medical researchers, physicians, and other healthcare professionals.
Key Features of Netter's Illustrated Human Pathology
The features included in Netter's Illustrated Human Pathology are:
This atlas contains 380 images including both microscopic and gross illustrations as well as tables for better understanding.
Netter's Illustrated Human pathology provides detailed visual insight and vibrant and to-the-point illustrations of pathology specimens. The gross and microscopic illustrations in the atlas make pathology easy and fun to learn.
You can take your pathology learning to a whole other level through the use of Student Consult provided along with this atlas.
It helps to build up core concepts that are essential for an understanding of different diseases and conditions.
Netters illustrated human pathology is an excellent companion for medical students studying pathology, along with other extensive pathology textbooks.
It gives students complied and up-to-date information about all the aspects of pathology that can be either text or laboratory-related work.
Features of the updated edition of Netter's Atlas of Human Pathology
The Netter's Atlas of Human Pathology is continuously updated and the features of the updated version are as follows:
More than 380 microscopic and gross images and detailed and informative tables.
Several informative tables (this includes 255 slides and 452 figures)
Overview or summary of the body system at the beginning of each chapter
This edition of the atlas is also available for access to e-learning by the Student Consult.
Student Consult Access; How is it useful?
The student consult access is mainly an eBook available to students who want to get a deeper and insightful understanding of pathology. This access provides self-assessment exercises, Multiple Choice Questions (MCQs), and electron microscopy images that make the overall learning experience more illuminating and enjoyable.
Table of Contents
This atlas contains 13 chapters arranged body system-wise. Each chapter contains illustrated images of diseases and pathologic conditions related to the respective body system. Below is the table of contents of Netter's Illustrated Human pathology:
General reaction patterns
Cardiovascular system
Respiratory system
Gastrointestinal system
Liver, gallbladder, and pancreas
Kidneys, ureters, and urinary bladder
Diseases of the male reproductive system
Diseases of the female reproductive system
Integumentary system (skin)
Hematopoietic and lymphatic tissues
Bones, joints, and soft tissues
Endocrine system
Nervous system
L. Maximilian Buja (MD) is a Professor in the Department of Pathology and Laboratory Medicine at the University of Texas. He is also Chief Executive Director and the teaching professor at one of the esteemed universities i.e. the Texas Heart Institute. He is a chief executive and a teaching professor at one of the esteemed universities. L. Maximilian Buja carries out medical research and clinical practice in cardiovascular pathology and has a Texas Medical Board fellowship.
L.Maximilian Buja has taught a number of medical students, post-graduate students, and medical residents. He is the author of Netter's Illustrated Human Pathology atlas that is a gift for the medical students pursuing their studies in the field of pathology. Also, he is the editor-in-chief of Cardiovascular Pathology, the official journal of the Society for Cardiovascular Pathology.