Fitzgerald's Clinical Neuroanatomy and Neuroscience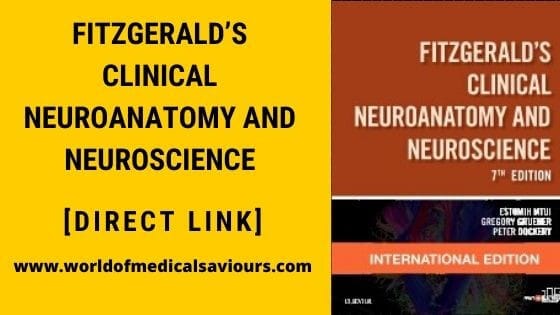 In this post, we have shared an overview and direct download link of Fitzgerald's clinical neuroanatomy and neuroscience in the section of our MBBS pdf books. You can read the overview and download it using links given at the end of the post.
Overview of Fitzgerald's clinical neuroanatomy and neuroscience
For all those medical students who aspire to become a neurologist, this book is not less than a gem. When you read this book, you get a chance to explore the marvels of your brain. The medical residents who want to review some necessary portions of neurology will also find this book very helpful.
Fitzgerald's clinical neuroanatomy is very famous for illustrating the concepts of neurology. The explanation of the concepts and the illustrations become more effective with the help of high-definition and coloration.
What are the key features of Fitzgerald's clinical neuroanatomy and neuroscience?
To help you understand some really necessary clinical conditions in neurology, the book consists of over 200 MRI 3-plane sequences.
There are over 400 visually appealing and colorful photographs as well as illustrations. This helps you to get a deeper understanding of neuroscience and neuroanatomy
Some of the very important clinical conditions, as well as cases, are covered extensively in the book
Reading this book will help you get knowledge from many reputed authors and neurologists
Purchasing the book ( in the case if you want ) will help you to get access to Student Consult.
Table of content
We present to you the complete table of contents that you will find while reading Fitzgerald's clinical neuroanatomy and neuroscience PDF.
Neurons and neuroglia: an overview
Electrical events
Transmitters and receptors
Peripheral nerves
Innervation of muscles and joints
Innervation of skin
Cerebral topography
Midbrain, hindbrain, spinal cord
Meninges
Blood supply of the brain
Electrodiagnostic examination
Autonomic nervous system and visceral afferents
Nerve roots
Spinal cord: ascending pathways
Spinal cord: descending pathways
Brainstem
The lowest four cranial nerves
Vestibular nerve
Cochlear nerve
Trigeminal nerve
Facial nerve
Ocular motor nerves
Reticular formation