Basic Principle of Surgery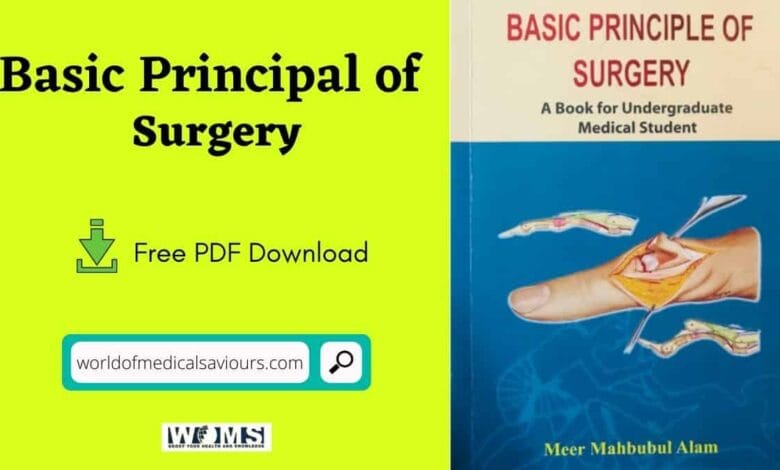 Surgery is an extensive subject loaded with complex anatomical details. It is quite a difficult task to remember minor details of incisions and suturing procedures. This book, Basic principles of surgery, is here to help you resolve all these typical mysteries of surgery with their anatomical details.
Most of the students find this subject tricky because of its rough explanation. This book, Basic principles of surgery, is especially to make this subject easy for the students. In addition, this book is best for undergraduate students and junior practitioners. The basic purpose of this book is to clear concepts regarding surgery.
For the student purposes
This book explains all the basic details of the surgery. In addition, this book covers all the surgical principles necessary to perform any procedure. Moreover, this book offers an ultimate guide about surgical treatments for serious patients where medicine failed. This book is a complete package of all surgical concepts with clear details and diverse explanations of all surgical procedures.
Dr. Meer Mahbubul Alam (MBBS, FCPS, FRSH, FICS, F- ortho)
A great expert in General surgery
Have done Training in surgery, orthopedics, urology, and laparoscopy
Teaching surgery to undergraduate and postgraduate students
Training undergraduate doctors
Ensure surgical care of surgical patients
Offering quality medical education with the help of the quality assurance committee
Have written several national and international publications regarding surgery and medicine
Multiple books authorized by his name
Clinical features of Basic principles of surgery
Ensuring the quality of the book, this book provides a great set of features that will help medical students clear any ambiguity related to surgical concepts. In addition, this book covers every possible aspect of surgery. Some of the features are below for the review of this book.
Strong diagnosis
This book explains such approaches that will help to make a good diagnosis. The whole treatment of any pathology is based on the foundation of diagnosis. A good diagnosis improves the treatment procedure and prognosis of any disease.
In addition, this book provides good information related to clinical practice. Moreover, a good clinical practice ensures the quality of surgeons. This book not only provides clinical information but also relates this information to daily life practice.
Case presentation:
This book covers great examples of different clinical cases. In this way, this book focuses on theoretical information as well as clinical case presentations. In addition, this clinical feature develops interest among the readers related to surgery.
This book also explains the surgical management of all these clinical case presentations. Moreover, it also describes all important indications and contraindications of any surgical procedure.
Surgical ethics
This book explains specific clinical protocols for any surgical procedure. In addition, there is a limitation to every surgical procedure, which this book describes in a very effective way. Moreover, this book describes all basic principles for surgical management.
Following specific protocols for any surgical procedure makes the prognosis better. These protocols reduce postoperative complications and improve the healing without any interference of the defense system.
Characteristic qualities of the recent edition of Basic principles of surgery
There are several important properties of this book describing the basic principles in a very easy way. In addition, these features are for the ease of medical students to solve their problems regarding surgery. Some of these features are below:
Provides illustrated details of surgical principles and procedure
Provides information to build an accurate diagnosis for any medical pathology
Covers various clinical case presentations
Explains the protocols related to surgical ethics
This book also describes all the perioperative care protocols to enhance prognosis and reduce complications during surgery.
This book explains all the life-saving emergency procedures.
It also provides education about CPR and airway management protocols.
Extensive description related to basic life support in any trauma patient
An illustrated section to manage patients of trauma or severely injured patients
Also covers details of anesthesia and proper management.
This book ensures the treatment of any aggressive or mild infection by providing prophylaxis.
It also explains the grafting procedure after any extensive surgery related to cosmetic surgery.
This book also provides the latest technologies that help to assist any surgical procedure like X-ray, CT scan, etc.
Includes several clinical images to clear understanding related to surgical procedure.
Clinical details integrated into the text to enhance learning
Pdf format available to get access to all the details
Content details of Basic principles of surgery:
This book, Basic principles of surgery, explore all fundamental surgical principles. In addition, it covers all important dimensions of surgery. Moreover, this book describes all the special protocols related to any surgical management.
This book also provides various clinical case presentations in the text details. Moreover, it enables any student or clinical practitioner to perform these procedures in any clinical setting. This book is helpful enough to solve all the problems of undergraduate students.
This book is divided into eight different sections to focus on every major aspect of surgery. Let's explore these sections.
Section 1 – general consideration
Section 2 – basic emergency surgery
Section 3 – traumatology
Section 4 – perioperative care
Section 5 – surgical infection
Section 6 – tumor/plastic surgery
Section 7 – life-saving procedures
Section 8 – physic in surgery
This book describes every aspect with great detail and clinical information. Moreover, this book also describes the use of the latest technologies in the field of surgery. These latest technologies make it easy to assess these pathological diseases.
| | |
| --- | --- |
| Book name: | Basic principle of surgery |
| Author: | Dr. Meer Mahbubul Alam |
| Publisher: | MMA publications Bangladesh |
| Pdf format: | Available |
Conclusion
This book is specially organized to clear the complex concepts of surgery. If you are in search of a surgery book with even minor details, you are at a perfect book place for your surgical concepts. This book covers all important dimensions of surgery.
In addition, this book provides surgical management of infection, trauma, and many other life-threatening conditions. This book is also available in pdf format for convenience. You can get access to all the important details of this book.