Essential of Medical Microbiology by Sastry
In this post, we have shared an overview and download link of Essentials of medical microbiology PDF under the section of Medical books pdf. Read the overview and download using links given at the end of the post.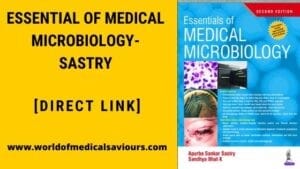 Overview
If you are a medical student then you should know that you will need the Essentials of medical microbiology PDF in the second year of MBBS. Since the book is recommended by most of the teachers and professional doctors, we bring you the pdf of Essentials of medical microbiology.
Most of the medical students fail to maintain proper focus while studying microbiology. But to get good overall knowledge, it is important to learn microbiology with full interest. This book is specially designed to make the study of microbiology interesting.
Features of Essentials of medical microbiology by Sastry PDF
This book is helpful for the preparation of both 2ndyear exams and PG exams
More content is covered in less pages. It saves time
The concepts are also explained in bulleted formats that helps to remember for long time
The language is easy and simple. The book is completely user-friendly
Laboratory diagnosis and treatment are included in separate boxes for quick review
MCQs and questions based on clinical cases are included that will help you to test your understanding
You may also like to read - Essentials of microbiology by Surinder Kumar
Table of contents
Introduction and Bacterial Taxonomy
Morphology and Physiology of Bacteria
Sterilization and Disinfection
Culture Media and Culture Methods
Identification of Bacteria
Bacterial Genetics
Antimicrobial Agents, Antimicrobial Resistance and Antimicrobial Susceptibility Testing
Microbial Pathogenicity
Immunity (Innate and Acquired)
Antigen
Antibody
Antigen-Antibody Reaction
Complement
Structure of Immune System
Immune Responses: Cell-mediated and Antibody-mediated
Hypersensitivity
Autoimmunity
Immunodeficiency Disorders
Transplant and Cancer Immunology
Immuno-prophylaxis and Immunohematology
Staphylococcus
Streptococcus, Enterococcus and
Neisseria and Moraxella
Coryne-bacterium
Bacillus
Anaerobes (Clostridium and Nonsporing Anaerobes)
Mycobacteria
Miscellaneous Grampositive Bacilli
EnterobacteriaceaeI
Enterobacteriaceae II: Salmonella
Vibrio and Aeromonas
Pseudomonas and other Nonfermenters
Haemophilus and HACEK Group
Bordetella
Brucella
Miscellaneous Gramnegative Bacilli
Spirochetes
Rickettsiae, Coxiella, Bartonella
Chlamydiae
Mycoplasma and Ureaplasma. General Properties of Viruses
Herpesviruses
Other DNA Viruses
Myxoviruses and Rubella Virus
Picornaviruses Arboviruses
Rhabdoviruses
HIV and Other Retroviruses
Miscellaneous RNA Viruses
Hepatitis Viruses
Oncogenic Viruses
Medical Mycology
Normal Microbial Flora of Human Body
Clinical Microbiology (Infective Syndromes)
Hospital Acquired Infections
Biomedical Waste Management
Bacteriology of Water, Milk, Air and Food
Annexure1
Annexure2
Annexure3
Annexure4
Index
How to study microbiology effectively?
There are many students who message us daily to know some tips so that they can learn microbiology effectively. So here we have come up with 3 basic tips that will help you study microbiology in an effective way.
Visualisation
Microbiology can be studied at it's best when you visualise the facts and concepts. All you have to do is associate the concepts with images. This will help you to get the concepts easily. Meanwhile, you can recall the facts and concepts very simply.
Draw charts and diagrams
When you are reading about various viruses and bacteria, you find it difficult to remember all the terms. One simple thing you can do is make charts and diagrams of particular viruses and bacteria. This will help you to organise your study. Learning concepts will become easier and recalling them at regular interval will become even simple.
Always remember the basics
As you proceed learning microbiology, there are certain terms that you may find time to time during the course. It becomes difficult to know new concepts without having proper knowledge about those simple terms. These terms come under the basics of microbiology. To know bigger concepts and learn microbiology properly, you will need to stick with these basics throughout the course.
Essential of Medical Microbiology by Sastry [PDF Free Download]